Chiba cherry blossoms blooming in Autumn too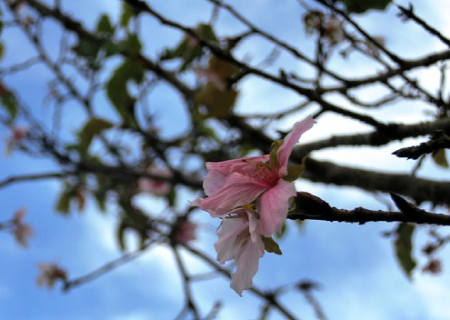 On 10/10/2012, Cherry blossoms (Prunus yedoensis) were found blooming in Narita city Chiba.
2 ~ 3 flowers are blooming on 2 branches.
The next day, Kawazu cherry tree and wild cherry tree were also found having more than ten flowers.
These trees are in the farm called "Narita yume farm". The manager of the farm comments, a strong typhoon came on 9/30/2012. The leaves fell off, and the temperature went up. The cherry trees might have misunderstood spring has come.
Related article..Cherry blossom bloomed in Tokyo, "It's still Autumn"
2012年10月10日、千葉県成田市で桜(ソメイヨシノ)の開花が観察されました。
2本の枝先にそれぞれ2~3個ずつ開花しています。翌日、河津桜とヤマザクラにも十数個ずつ花が付いていました。これらは「成田ゆめ牧場」の桜です。同牧場の課長のコメントは以下の通りです。
「9月30日の強い台風で葉が落ちた後に暖かい気候になったため、春が来たと桜が勘違いしたのでは」
Iori Mochizuki
_____
Français :
Les cerisiers à fleurs de Chiba aussi fleurissent en automne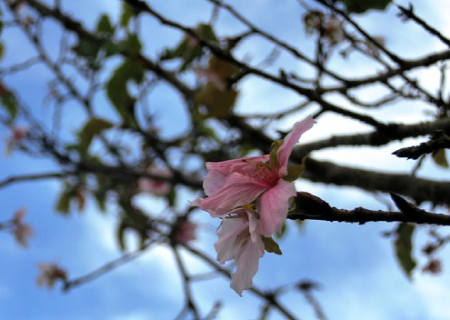 Le 10 octobre 2012, des cerisiers à fleurs (Prunus yedoensis) ont été vus en fleurs dans la commune de Narita, à Chiba.
2 à 3 fleurs se sont épanouies sur 2 branches.
Le jour suivant, un cerisier de Kawazu et un cerisier sauvage ont aussi été vus porteurs de plus de dix fleurs.
Ces arbres sont dans une ferme appelée la "Narita yume farm". Le gérant de la ferme raconte qu'un gros cyclone est passé le 30 septembre 2012. Les feuilles sont tombées et la température est remontée. Les cerisiers ont pu se méprendre et considérer que le printemps était arrivé.
Article lié : Un cerisier à fleurs a fleuri à Tokyo, "On est toujours en automne"