Aftershocks occurred over 85 times by 11am of 23rd Nov after M7.4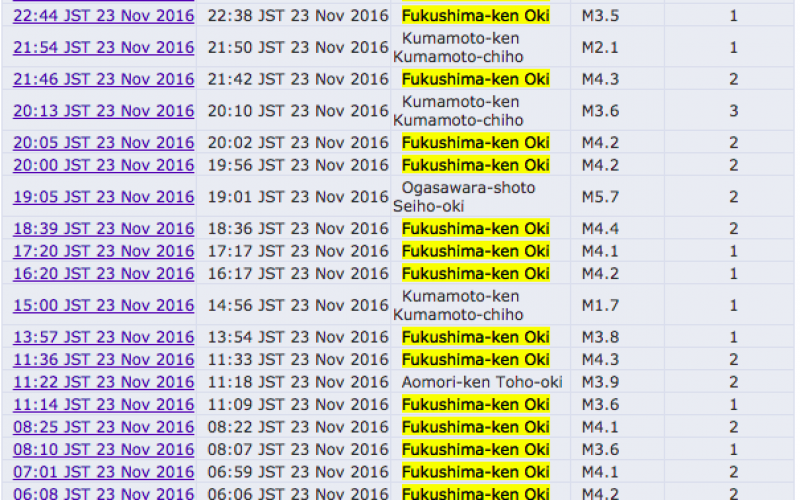 Following up this article.. [Breaking] M7.3 Fukushima offshore / 3m of Tsunami is coming / Fukushima plant status unknown [URL]
According to JMA (Japan Meteorological Agency), they observed over 85 aftershocks by 11:00 AM (JST) of 11/23/2016. This is the count of the quakes of seismic scale 1 ~. They warn the same level of the earthquake (M7.4) may happen this week again, which also may cause Tsunami.
They observed 7 quakes of seismic scale over 3.
http://www.jma.go.jp/en/quake/quake_local_index.html
http://2ch-news.co/newsplus/1479879660/
Iori Mochizuki
_____
Au 23 novembre à 11:00, on relève plus de 85 répliques consécutives au M7,4
Article lié : [Breaking] Séisme M7.3 au large de Fukushima / Tsunami de 3m en cours / Situation à la centrale inconnue
Selon la JMA (Japan Meteorological Agency), au 23 novembre 2016 à 11:00 (JST) ils relèvent plus de 85 répliques. C'est le nombre de séismes d'échelle 1 ~. Ils alertent sur la possibilité cette semaine d'un séisme de même niveau (M7.4), pouvant également engendrer un tsunami.
Ils ont relevé 7 séismes d'intensité sismique supérieure à 3.
http://www.jma.go.jp/en/quake/quake_local_index.html
http://2ch-news.co/newsplus/1479879660/