Mutated slug in Fukushima
Huge slug was found in Iidatemura Fukushima.
食べごろの"なまこ?"、いいえナメクジです。放射能の性?、判りません。積んであった薪の間から出てきました。薪は1万ベクレル位あるのでその影響でしょうか、SFの世界? twitter.com/nobuitou8869/s…

— 飯舘村農民見習い伊藤延由さん (@nobuitou8869) 7月 11, 2012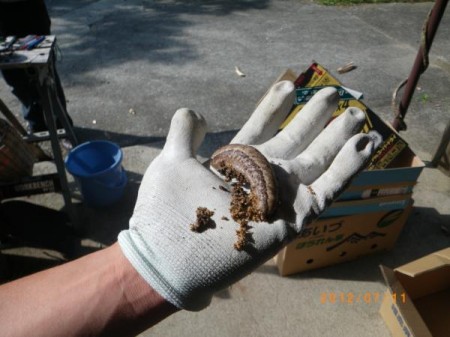 <Translate> (A farmer in Iidatemura Fukushima)
Ripe sea cucumber ? No, it's a slug. Is it that big because of radiation ? I don't know, but it came out of firewoods, which contain about 10,000 Bq/Kg. Maybe it's affecting it. feels like it's an SF world.
<End>
Iori Mochizuki