A new species of shrimp discovered in swimming beach of Japan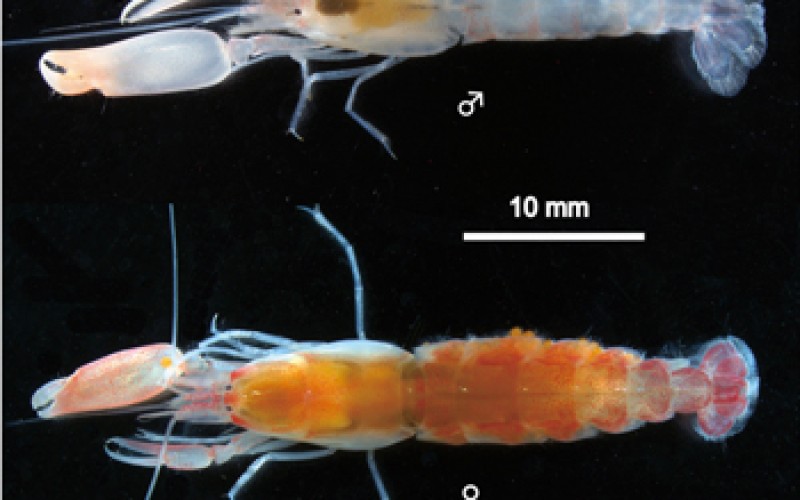 On 12/22/2015, Chiba prefectural government announced they discovered a new species of Shrimp in the coastal area of Chiba prefecture.
From May of 2013 to August of 2015, it was discovered by Komai,a researcher of Natural History Museum and Institute in Chiba.
The samples were collected in the south part of Tokyo Bay and also Kumamoto prefecture too.
The sampling locations were swimming beach to surprise the researcher himself. It's 4cm long and named "Alpheus ikedosoma".
The researcher comments it is a sort of Alpheidae, but a very unique species to have the special features of two different species. It lives in the nest of Ikedosoma.
The discovery was covered by the international zoological magazine "Zootaxa" issued on 12/15/2015.
http://www2.chiba-muse.or.jp/?page_id=787
http://www2.chiba-muse.or.jp/?action=common_download_main&upload_id=17821
http://www.pref.chiba.lg.jp/kyouiku/bunkazai/press/2015-2/20151222.html
http://www.mapress.com/zootaxa/2015/f/z04058p111f.pdf
Iori Mochizuki
_____
Nouvelle espèce de crevette découverte le long de plages publiques japonaises

Le 22 décembre 2015, la préfecture de Chiba a annoncé qu'on avait découvert une nouvelle espèce de crevette le long de la frange côtière de la préfecture de Chiba.
Elle a été découverte entre mai 2013 et août 2015 par M. Komai, chercheur au Natural History Museum and Institute de Chiba.
Les échantillons proviennent du sud de la baie de Tokyo et également de la préfecture de Kumamoto.
Ils ont été ramassés le long de plages balnéaires, ce qui a surpris le chercheur lui-même. Elles font 4 cm de long et l'espèce a été nommée "Alpheus ikedosoma".
Le chercheur déclare qu'il s'agit d'une espèce unique dans la famille des Alpheidae, porteuse de caractères de deux autres espèces bien différenciées. Elles vivent au cœur d'Ikedosoma.
Cette découverte est rapportée dans le dernier numéro du journal international de zoologie scientifique "Zootaxa", publié le 15 décembre 2015.
http://www2.chiba-muse.or.jp/?page_id=787
http://www2.chiba-muse.or.jp/?action=common_download_main&upload_id=17821
http://www.pref.chiba.lg.jp/kyouiku/bunkazai/press/2015-2/20151222.html
http://www.mapress.com/zootaxa/2015/f/z04058p111f.pdf