Tepco is struggling with reactor 2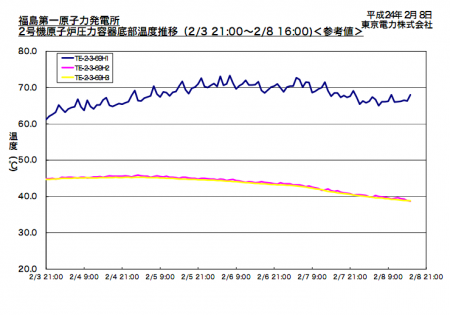 Tepco is stil struggling with cooling reactor2. On 2/8/2012, the bottom of the reactor is 65.4℃. It decreased by 3℃ since yesterday, but still it remains high.
Other two points of heat gauges are becoming cooler, between 38℃~39℃. Also, Tepco stated they didn't measure Xe135. However, all they could do is only to watch the situation.
Additionally, Tepco found 4 of 990 contaminated water storage tanks leaking. 6 tanks have leaked in total so far.
福島第1原発:2号機が65.4度 温度高止まり
東京電力は8日、福島第1原発2号機の原子炉圧力容器底部の温度が、同日午後5時現在で65.4度になったと発表した。前日比では約3度下がったものの高温傾向を維持しているため、東電は監視を続けている。
東電によると、ほぼ同じ位置にある二つの温度計は38~39度で、低下傾向を示しているという。また、2号機の原子炉格納容器内にある気体をサンプリングして分析した結果、核分裂が連鎖的に起こる「再臨界」の際に発生する放射性キセノンはほとんど検出されなかった。東電の松本純一原子力・立地本部長代理は記者会見で「温度は低下傾向にあるが、もう数日様子を見極める必要がある」と述べた。
また東電は8日、第1原発内に設置した汚染水貯蔵タンク990基を点検した結果、新たに計4基で汚染水の漏れなどを見つけたと発表した。ボルトの緩みなどが原因。これまでに2基で水漏れが見つかったため、経済産業省原子力安全・保安院が全タンクの点検を東電に求めていた。【中西拓司】
毎日新聞 2012年2月8日 21時32分(最終更新 2月8日 21時33分)
Iori Mochizuki