Monitoring data saturated after the nuclear explosion of reactor 3
Fukushima prefecture monitored radiation level around Fukushima plants.
On 2/7/2012, they released the monitoring data after 311. The data was taken in Ohno Ohkuma machi.
The facility is Nal scintillation spectrometer detector.
The graphs below are the spectral data.
Reactor 3 had nuclear explosion at 11:01 3/14/2011.
The bottom 2 graphs are the ones of 22:30 3/14/2011 and 10:30 3/15/2011.
The reactor 2 and 4 exploded at 6:00 3/15/2011.
Those 2 graphs are showing the saturation of low level of energy in the spectral data. It is impossible even to detect the nuclides.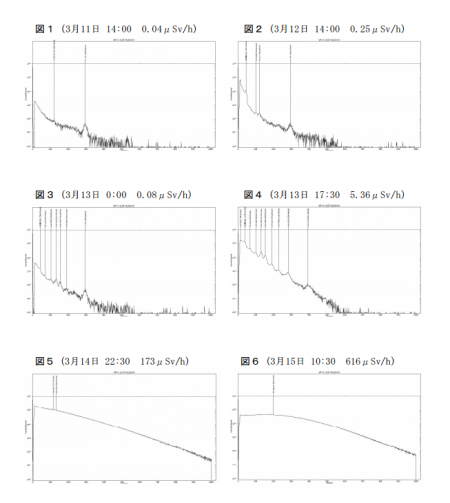 Iori Mochizuki