Most of the thyroid preparations are produced in Iwaki Fukushima
Thyroid preparations(T4) called Thyradin has 98% of share in Japan.
It's produced in Iwaki factory of Aska Pharmaceutical, where is about 56 km south to Fukushima plants.
Fukushima citizens who went through Fukushima explosions have already started suffering from thyroid disease.
It's levothyroxine sodium, Hashimoto's thyroiditis patients and patients who had thyroid operation are to take 25~400μg once a day.
At this moment, Aska Pharmaceutical has no plan to move the factory.
They measure the products just before the shipment by GM survey meter (TGS-133), and the result is supposed to be in the normal back ground range about all the products. They also state, amount of intake is too small to be harmful.
However, they use tap water for the process, which is checked by Iwaki city government. They only measure Iodine 131, and cesium 134 and 137.
Additionally, the atmospheric dose in the factory is measured only by Pocket digital dose meter.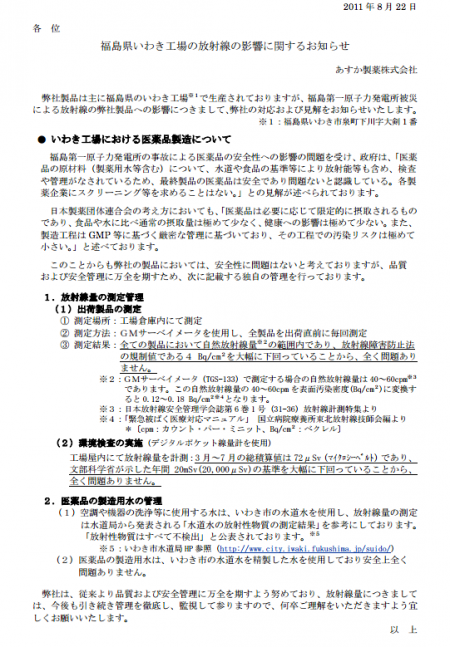 Iori Mochizuki