"Can't see anything."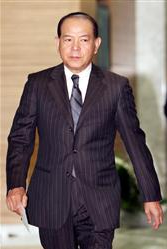 A Japanese actor, Chii Takeo (69) was hospitalized. Now he's having a complete checkup.
He hasn't had any major disease but he suddenly claimed "I can't see anything."
They say the condition is not very good.
He was on the TV show "Chii sanpo" to walk about in the downtown areas in Tokyo. When he went to Fukushima, he ate peach on the street without even washing it.
地井武男が緊急入院「目が見えない」
スポーツ報知 1月31日(火)8時2分配信
俳優の地井武男(69)が緊急入院したことが30日、分かった。関係者によると、「目が見えない」と訴え、精密検査を受けているという。
地井は現在、テレビ朝日系の旅番組「ちい散歩」(月~金曜・前9時55分)にレギュラー出演中。放送では元気な姿を見せており、最近になって急に体調を崩したとみられる。これまで大病を報じられたことはなかった。
地井は俳優座養成所15期生で、1968年に映画「斬る」でデビュー。アクションをはじめ数多くの作品に出演し、テレビでも「太陽にほえろ!」「北の国から」などに出演。バラエティーでも活躍している。プライベートでは01年6月に妻で元女優の佐和子さん(享年61歳)を亡くしたが、04年2月に当時49歳の元モデルと再婚した。
病状は決して軽いものではないという情報もあり、容体によっては番組の収録にも影響が出そうだ。
Iori Mochizuki