After all, nothing is improved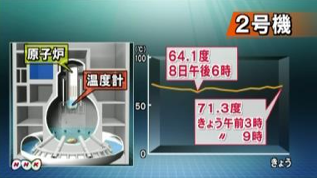 Reactor 2 has become over 71℃ again.
The temperature of reactor 2 marked 73.3℃ on 2/6/2012. Tepco increased the water amount to inject to 13.5 tones/h on 2/7/2012. As a result, it came down to 64.1℃ once, but it became back again.
2/10 21:00 71.1℃
2/11 3:00~9:00 71.3℃
Other heating gauges in the bottom of reactor are showing the temperature is decreasing to 35℃ to prove water level is lower than those 3 gauges.
Tepco asserts they are managing to cool nuclear fuel, but if it goes even higher, they will increase the water amount again.
In other word, all they could do is to put more water though it's not working as expected. It's still impossible to know what is going on in the reactor.
Source
東京電力福島第一原子力発電所の2号機で、原子炉の温度計の1つが高い値を示している問題で、4日前に注水量を増やしたあと一度は温度が下がったものの、10日夜から11日にかけて、再び71度台を記録し、温度が下がっていないことが分かりました。
福島第一原発の2号機では、原子炉の底にある温度計の1つが、先月下旬から徐々に上昇して、70度前後から下がらない傾向が続き、東京電力は、7日、原子炉の注水量を増やし、これまでで最も多い1時間当たり13.5トンにしました。
その結果、温度計の値は6日に73.3度を記録しましたが、8日に64.1度まで下がりました。
ところが、その後温度が再び上がっていて、▽10日午後9時に71.1度、▽11日午前3時と9時には71.3度と、注水量を増やす前とほぼ同じ高さに戻り、温度が下がっていないことが分かりました。
原子炉の底のほかの2つの温度計は、35度程度まで下がり続けていて、東京電力は、「燃料の冷却はできているので、もうしばらく状況を見守る。しかし、これ以上上昇したら注水量をさらに増やすことも考える」と説明しています。
福島第一原発では、去年12月、原子炉の温度が100度以下に下がったとして、政府と東京電力が「冷温停止状態」を宣言していますが、原子炉の状態は、依然、詳しく把握できない状況が続いています。
Iori Mochizuki