Tepco's decontamination robot for reactor2 works with "a wiping mop" and "a vacuum cleaner"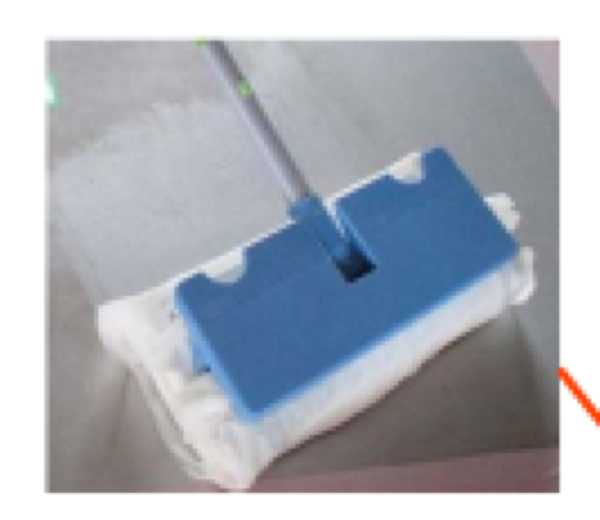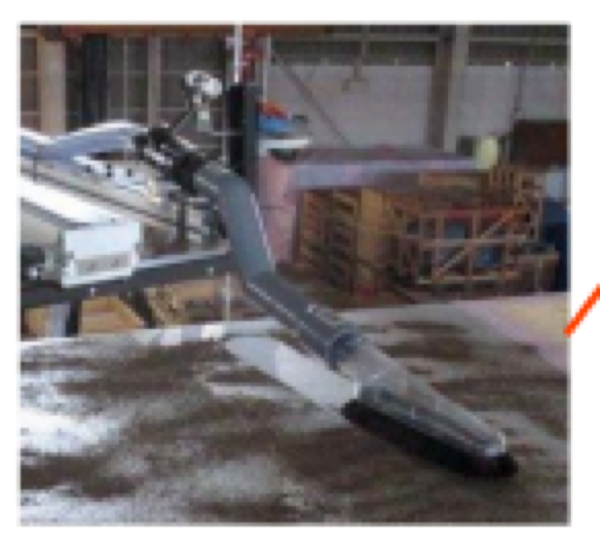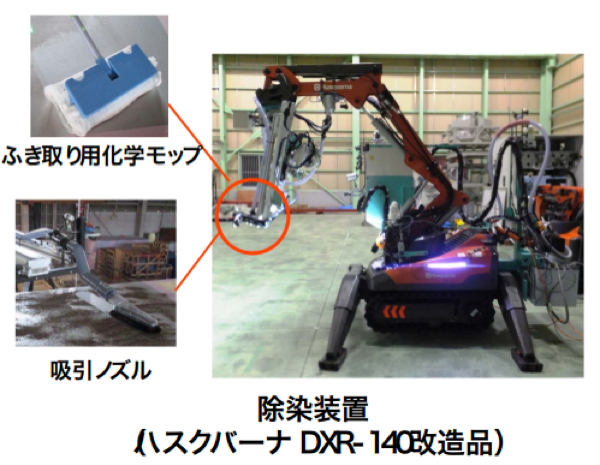 The newly introduced robot to decontaminate reactor2 works with a paper napkin-looking mop and a vacuum cleaner, from Tepco's press release.
Tepco is trying to reduce the contamination level in reactor2 building. From 6/9/2014, they expect to clean the wall (1.8 ~ 5m height) by the robot.
The robot is approx 3m long and 2.3m tall. It reaches 5m height by stretching the arm and weighs nearly 1 t.
However "the decontamination device" is only the mop and vacuum cleaner. The mop looks like a daily paper napkin mop. These look desperate for the scale of contamination but unfortunately it's from Tepco's own data from their own website, which is real.
Related article.. Evidence to prove reactor2 also possibly exploded in 311 was found / Hole on suppression chamber [URL]
http://www.tepco.co.jp/nu/fukushima-np/handouts/2014/images/handouts_140606_14-j.pdf
Iori Mochizuki
You read this now because we've been surviving until today.
_____
Français :
Le robot de décontamination de Tepco pour le réacteur 2 fonctionne avec une "serpillère" et un "aspirateur"
Selon le communiqué de presse de Tepco, Le robot récemment présenté devant décontaminer le réacteur 2 fonctionne avec un balai-serpillère et un aspirateur.
Tepco essaye de faire baisser le niveau de la radioactivité dans le bâtiment du réacteur 2. Ils prévoient commencer le nettpyage des murs (de 1,80 à 5 m de haut) avec ce robot à partir du 9 juin 2014.
Ce robot fait environ 3 m de long et 2,30 m de haut. Il peut atteindre les 5 m en hauteur en étendant son bras et il pèse près d'une tonne.
Néanmoins, "l'appareillage de décontamination" se résume au balais-serpillère et à l'aspirateur. Le balai-éponge ressemble à classique balai à serpillère. Ça semble dérisoire face à l'étendue de la contamination mais malheureusement c'est une information de Tepco issue de leur propre site, donc c'est vrai.
Article lié : Preuve de l'explosion du réacteur 2 en mars 2011 : on a trouvé un trou dans la chambre en surpression
http://www.tepco.co.jp/nu/fukushima-np/handouts/2014/images/handouts_140606_14-j.pdf
Vous pouvez lire ceci parce que nous avons survécu jusqu'à aujourd'hui.