[Reactor3] Possible second meltdown happened 3/21 ~ 3/22/2011
Following up this article..Investigation committee "there is a possibility that the earthquake damaged equipment"
The investigation committee stated on their final report that there is a possibility that reactor3 had the second meltdown from 3/21 to 3/22/2011. Also, it suggests the massive burst of radiation from reactor1 on 3/15, 16 and 21.[Link]
It's stated like this below..(P.243)
<Translate>
Indication of off-site monitoring post
We referred to short-lived radionuclide produced from recriticality. CTBT monitoring post [Link] indicated the increase of radiation including short-lived radionuclide around 3/15, but you can't deny the possibility that those were produced in normal operation of nuclear plants, or altered nuclides. Japan chemical analysis center indicated the rapid increase of Te-129, 132, I-132, Xe-133, but they might have been produced from normal operation too.
From those monitoring data above, recriticality can't be clearly proven, but it is obvious that radiation was massively bursted from reactor1 around 3/15, 16 and 21. The spike of radiation from 3/15 to 3/17/2011 is probably because of the damage of suppression chamber and dry well at reactor2 and also the venting and hydrogen explosion of reactor3. There is a possibility that the spike from 3/21 ~ 22/2011 is because of the second meltdown of reactor3.
<End>
The CTBT data shows like this, [Link]
The data of Japan chemical analysis center is like this below, (μSv/h) [Link]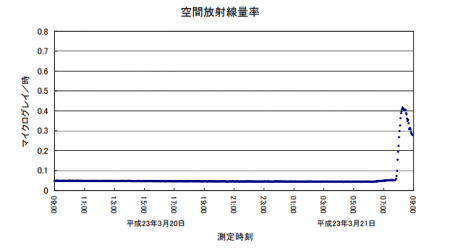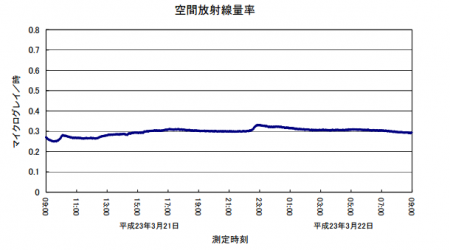 According to Asahi newspaper of 8/8/2011 [Link], the amount of water injection to reactor3 was about 300 tones a day until 3/20/2011,the fuel was thought to be cool down, but it was decreased to be 24 tones a day from 3/21 to 23/2011, and 69 tones on 3/24/2011, which is probably because the pressure of PCV went up.
Mr. Tanabe from Japan Atomic Energy Research Institute, who analyzed three mile island accident commented, it's only 11 ~ 32 % of enough amount of water to cool down nuclear fuel.The fuel would have reached meltdown within a day.
Iori Mochizuki
_____
Français :
[Réacteur 3] Une seconde fusion a probablement eu lieu les 21 et 22 mars 2011
Article lié : Investigation committee "there is a possibility that the earthquake damaged equipment"
La commission d'enquête affirme dans son rapport final qu'il est possible que le réacteur 3 ait connu une seconde fusion de son coeur les 21 et 22 mars 2011. Elle suggère aussi des libérations massives de radioactivité depuis le réacteur 1 les 15, 16 et 21 mars .[Lien]
C'est affirmé ainsi (p.243) :

<Traduction>
Indication de la borne de surveillance hors-site
Nous faisons référence aux radionucléides à courte vie issus d'un retour à la criticité. La borne de surveillance du CTBT [Lien] a montré autour du 15 mars une augmentation de la radioactivité y compris de celle des radionucléides à courte vie mais on ne peut nier la possibilité qu'ils aient été issus d'opérations normales de centrales nucléaires ou qu'il s'agisse de nucléides altérés. Le centre d'analyses chimiques du Japon a indiqué des augmentations brutales en Te 129, 132, I 132, Xe 133 mais ils auraient pu aussi avoir été produits en fonctionnement normal.
Selon ces données de surveillance, le retour à la criticité ne peut pas clairement être établi mais il est évident que de la radioactivité est massivement sortie du réacteur 1 vers les 15, 16 et 21 mars. Le pic de radioactivité entre le 15 et le 17 mars 2011 est probablement  du aux dégâts à la salle en surpression et à l'enceinte sèche du réacteur 2 et aussi à cause de la purge de l'air et de l'explosion d'hydrogène dans le réacteur 3. Il est possible que le pic des 21 et 22 mars 2011 soit du à une seconde fusion dans le réacteur 3.
<Fin>
Les données du CTBT se présentent ainsi [Lien] :
Les données du centre d'analyses chimiques du Japon sont les suivantes (μSv/h) [Lien] :
Selon le journal Asahi du 8/8/2011 [Lien], la quantité d'eau injectée dans le réacteur 3 a été d'environ 300 tonnes par jour jusqu'au 20 mars 2011, on pensait le combustible refroidi mais c'est passé à 24 tonnes par jour du 21 au 23 mars 2011 et à 69 tonnes pour le 24mars 2011, ceci sans doute parce que la pression dans la PCV avait augmenté.
M. Tanabe, de l'Institut de Rrecherche de la Japan Atomic Energy qui a analysé l'accident de Three Miles Island, a déclaré que ça ne représente que 11 à 32 % de la quantité nécessaire au refroidissement du combustible nucléaire . Le combustible a du commencé à fondre en une journée.