Air pressure is increasing in container vessel of reactor 2
Air pressure of container vessel at reactor 2 has been increasing since 3/27/2012.
2号機の格納容器圧力が3/27から上昇しています。
Tepco assumes it is because the suction air system is not fully functioning.
東電は原因として内部のガスの吸出し機能に支障があることを推測しており
At 11:59 of 4/24/2012, Tepco increased air exhausting amount from 17 m3/h to 38 m3/h.
4/24 11:59、原子炉 格納容器ガス管理システムの排気流量を約 17m3/hから約 38m3/hへ調整しました。
(kPag)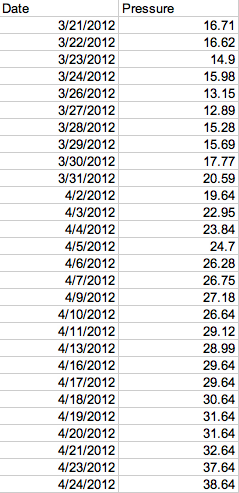 Iori Mochizuki