Contaminated water was found leaking into two more tunnels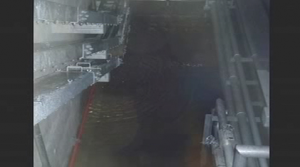 Following up this article .. Tepco found 140 tones of contaminated water leaking in a tunnel under the reactor
Tepco found out contaminated water has leaked into two more tunnels on 1/12/2012.
One of the two tunnels is connected to the turbine building of reactor3, which is about 300 tones.
They measured 1.6 microSv/h from the surface, but it's not announced how much Bq/Kg of radionuclide it contains.
About the other leakage, nothing is announced about the location, amount, or the contamination level.
Tepco asserts those tunnels are not connected to the sea, but they still haven't investigated where the water leaked from.
(Source)
東京電力は福島第一原発の地下トンネルの2か所に放射性物質に汚染された水が溜まっているのが見つかったと発表しました。
福島第一原発の地下トンネルから去年12月、大量の汚染水が見つかったことから、東京電力は全ての地下トンネルについて汚染水がないか調査を進めていますが、12日、新たに2か所の地下トンネルに水が溜まっているのが見つかったと発表しました。
今回発見された2か所のうち、3号機のタービン建屋につながる地下トンネルの汚染水はおよそ300トンで、表面から1時間あたり1.6マイクロシーベルトの放射線量が測定されました。
東京電力ではトンネルが海につながっていないことから、汚染水が海に流れ出る恐れはないとしていますが、引き続き、他のトンネルの調査を続けるとともに、汚染水の流入経路などについて調べることにしています。(12日20:57)
Iori Mochizuki