197 Bq/Kg of Cs-134/137 measured from sandals left outside since 2011 in Tokyo
197 Bq/Kg of Cesium-134/137 was detected from the sandals in Tokyo, according to a citizen's radiation measurement station in Saitama.
This is approx. as double as the safety limit of food though no one eats sandals.
The error range is ± 40.4 Bq/Kg.
These sandals have been left outside since July. 2011. Cesium-134 density was 28.8 Bq/Kg, Cesium-137 density was 168 Bq/Kg.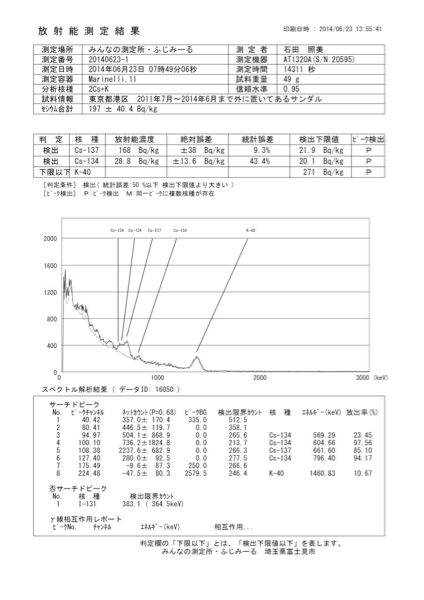 Related article.. 42 Bq/Kg from the insoles of elementary school student's shoes in Saitama [URL]
http://fujimi-ru.greenwebs.net/archives/2257
Iori Mochizuki
You read this now because we've been surviving until today.
_____
Français :
197 Bq/kg de césium 134/137 dans des sandales restées dehors depuis 2011 à Tokyo
Selon une station privée de mesure de la radioactivité de Saitama, 197 Bq/kg de césium 134/137 ont été relevés à Tokyo dans des sandales.
C'est à peu près le double de la limite de sécurité alimentaire même si personne ne mange souvent de sandales.
La marge d'erreur est de ± 40.4 Bq/kg.
Ces sandales sont restées dehors depuis juillet 2011. La radioactivité en césium 134 e, est de 28,8 Bq/kg, celle du césium 137 de 168 Bq/kg.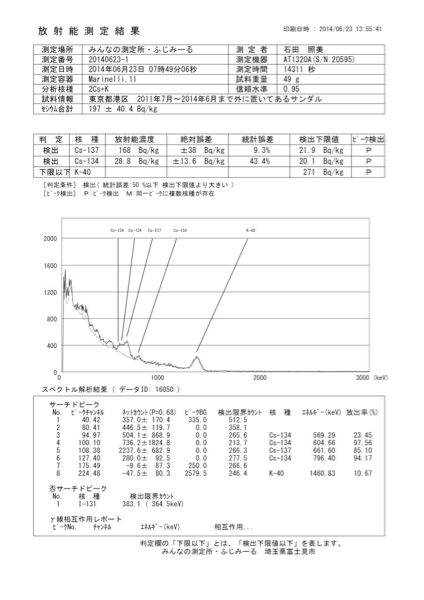 Article lié : 42 Bq/kg dans les semelles intérieures des chaussures d'élèves du primaire de Saitama
http://fujimi-ru.greenwebs.net/archives/2257
Vous pouvez lire ceci parce que nous avons survécu jusqu'à aujourd'hui.