Racehorse had nosebleed
12/21/2011, a Japanese racehorse,Minelkits (8 female), had a nosebleed just after a training race in Ibaraki.
The jockey says, I thought she looked dull today. Maybe she was suffering. It was the first time to have nosebleed. It's not that serious but can't expect a good performance so we will prepare for Emperor's prize.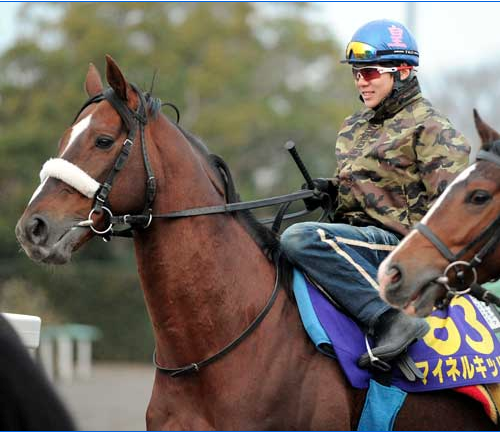 (Source)
マイネルキッツ鼻出血で有馬記念回避
有馬記念を予定していたマイネルキッツ(牡8、国枝)が21日、最終追い切り直後に鼻出血を発症したため、出走を取りやめた。調教駆けしないとはいえ、三浦騎手を背にウッドでサトノロマネ(古馬500万)に3馬身遅れていた。国枝師は「動きが重いなとは思っていたが、それで苦しかったのもあるんじゃないか。鼻血は今回が初めて。軽度のものだがいいパフォーマンスはできないから。天皇賞に備えればいい」と話した。ステイヤーズSを快勝し、復調をアピールした矢先のアクシデントだった。今後は3月24日中山の日経賞(G2、芝2500メートル)から最大目標の4月29日天皇賞・春(G1、芝3200メートル)を狙う。
[2011年12月21日17時52分]
Iori Mochizuki