35 tones of refueling machine on fuel storage rack in reactor 3
35 tones of refueling machine was found dropped over the fuel storage rack in reactor3, Tepco announced in their press conference of 4/13/2012.
They assume it dropped when reactor 3 had the explosion.
They watched it with a remote controlling camera operated by earthquake-resisting control room.
Tepco only published 4 pictures, which are too dark and not clear for today.
The 35 tones of refueling machine is planned to be taken out in the end of 2014.
According to Tepco, the size of pool is 12.2×9.9×11.8m, the machine is 14m. There are 514 assemblies of spent fuel and 52 of new fuel in the pool. (566 assemblies in total)
When it dropped, it damaged the pool as well. From the analysis result of water in the pool, Tepco assumes the fuel is not severely damaged.
They still haven't checked if the machine lies on the bottom of the pool.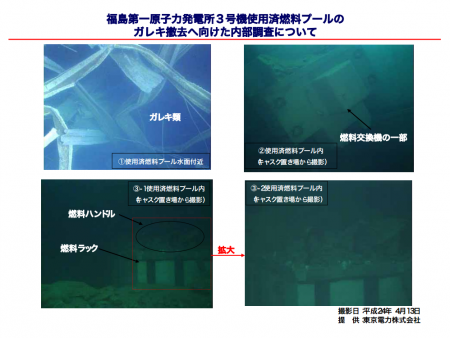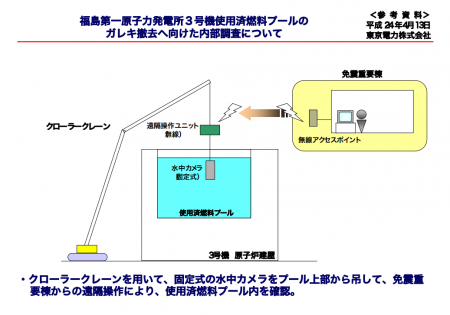 Iori Mochizuki