JR Joban train line runs among the heaps of contaminated soil bags for "decontamination" – Photo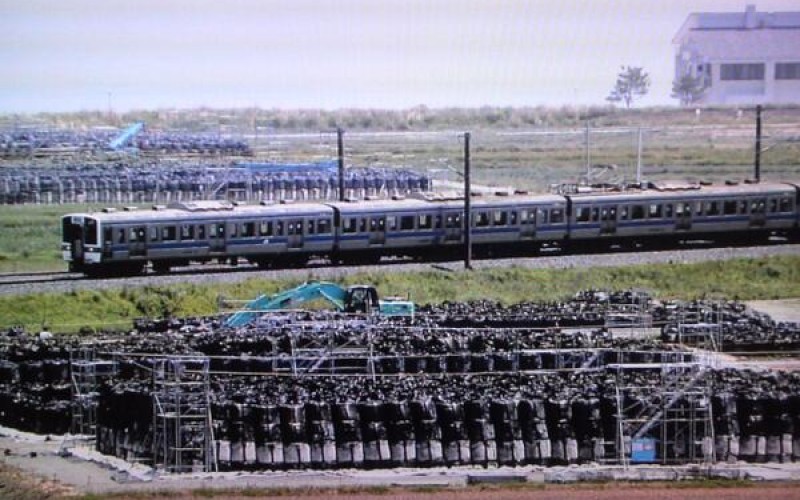 A Japanese citizen posted a picture to cut out an unrealistic reality of Fukushima prefecture.
"JR Joban line runs among the contaminated soil bags removed for decontamination. This is unrealistic even in an SF movie." (Photo attached on the top)
This train line comes to "Nippori station" in Taito Tokyo.
See also.. Plants starting to sprout from radioactive waste in Kohriyama city – Photo [URL]
Iori Mochizuki
You read this now because we've been surviving until today.
_____
Français :
La ligne de chemin de fer de JR Joban court entre des piles de sacs de sol radioactifs issus de la "décontamination" – Photo
Un japonais a publié une photo pour couper court à une réalité invraisemblable de la préfecture de Fukushima.
17 juin 2014 – 22:38
"La JR Joban line court entre les sacs de sol radioactifs raclés par la décontamination. Ce serait même trop invraisemblable pour un film de science-fiction." (Photo d'en haut)
Cette voie de chemin de fer vient de la "gare de Nippori" de Taito dans Tokyo.
Article lié : Les graines des déchets radioactifs de la commune de Kohriyama ont germé – Photo
Vous pouvez lire ceci parce que nous avons survécu jusqu'à aujourd'hui.