M7 and Tsunami alert for North Japan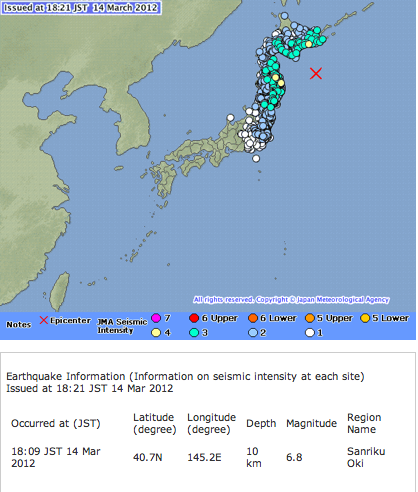 Tsunami alert for North Japan, pacific ocean side of Aomori, Iwate and Hokkaido.
Evacuating alarm is given to those areas.
Estimated height of tsunami is 50cm, but because the ground has sunk after 311, please don't get close to the coastal area.
【18:45 原発関連①】東北電力と日本原燃によると青森県にある▽東北電力の東通原発▽使用済み核燃料の再処理工場▽宮城県の女川原発は、いずれも運転を停止していて、今のところ地震による異常が発生したという情報は入っていないということです。

— 堀 潤 Jun Hori (@nhk_HORIJUN) March 14, 2012
<Translate>
According to Tohoku power company and Japan nuclear fuel limited,  Higashi dori nuclear plant, spent-nuclear-fuel reprocessing plant, Onagawa nuclear plant were stopped, there is no information about any trouble so far.
<End>
【18:50 津波注意報受け、7自治体で避難勧告】北海道太平洋沿岸東部、北海道太平洋沿岸中部、青森県太平洋沿岸、岩手県沿岸に津波注意報が出ています。避難勧告が出ているのは、▽青森県のむつ市と東通村▽岩手県の釜石市、大船渡市、陸前高田市、山田村、普代村です。避難をお願いします。

— 堀 潤 Jun Hori (@nhk_HORIJUN) March 14, 2012
Iori Mochizuki