Fukushima workers attacked by norovirus outbreak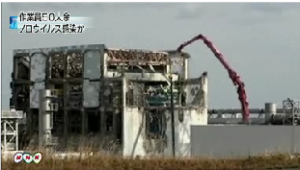 52 Fukushima workers belonging to Tepco's subcontract companies had diarrhea and vomiting.
They found norovirus from 3 of them.
According to Tepco, 12/15 AM, sub-contract workers had diarrhea and vomiting on the bus from their hotel to Fukushima plants.
Still one of them is in the hospital.
They stayed in different hotels. Tepco suspects it's from norovirus.
All of them were involved in the construction of the tank for radioactive waste.
An actual Fukushima worker tweeted like this below:
Happy20790 ハッピー
全面マスクからの感染はあるよ。てか実際一人感染したんだ。だから全部のマスクを消毒したみたいでし。マスクだけじゃなくて移動経路や移動車も全部消毒なんだ。ノロはアルコール消毒ではダメみたいなんだよね。
It's likely to infect through the mask actually. As a matter of fact, one person got infected this time. That's why they sterilized all the masks. They also sterilized the path and the car to come from the hotels to the plants as well. Norovirus can't be sterilized by alcohol.
(Source)
福島原発 ノロウイルス集団感染か
12月17日 16時46分
東京電力福島第一原子力発電所で働く作業員50人余りが下痢や吐き気などの症状を訴え、3人からノロウイルスが検出されたことから、東京電力はノロウイルスによる集団感染ではないかとみて調べています。原子炉の冷却などに影響はないということです。
東東京電力によりますと、15日午前、三菱重工業やその下請け会社の作業員数人が、宿泊先のホテルから福島第一原発近くの事務所に向かうバスの中で、下痢や吐き気などの症状を訴えました。症状を訴えた人は16日までに合わせて52人になり、検査の結果、3人からノロウイルスが検出されました。作業員は病院で点滴などの治療を受け、多くの人が回復しましたが、今も1人が入院を続けているということです。52人は複数のホテルに滞在し、福島県広野町にある三菱重工業の事務所に集まってから福島第一原発に向かっていたということで、東京電力はノロウイルスによる集団感染ではないかとみて、原因や感染ルートを調べています。作業員はいずれも放射性物質を含む廃棄物を保管するタンクの設置工事を担当していて、作業は15日)から中断されていますが、原子炉の冷却などに影響はないということです。