Contamination is accumulating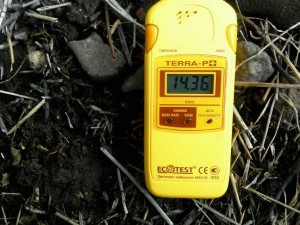 A free journalist, Iwakami Yasumi, tweeted
@iwakamiyasumi
岩上安身
今日、福島市のご自宅の線量を計った方から連絡が。雨樋の下の数値の写メ。先月は9.6μSv/hだったのが、14.3μSv/hに上がっていたという。降雪の影響か、都市濃縮か。。。(Source)
Translation:
got a message from a person who measured radiation in Fukushima. The picture is the ground under the gutter. It was 9.6 microSv/h last month but it was increased to 14.3 microSv/h this month. Maybe it's because of the snow or city concentration..
– end –
Whether it is from rain / snow or city concentration, it means radiation does not go away.
If it keeps accumulating at this pace it would be around 20 microSv/h next month.
We must keep our eyes on the situation.