Tokyo people as guinea pigs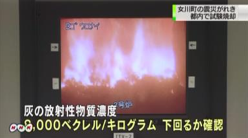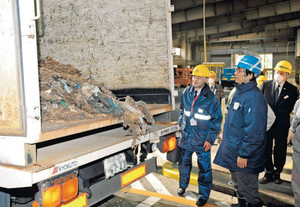 Japanese government seems to think they can reduce radiation by burning.
Since morning of 12/13/2011, the Ohta incineration plant has been incinerating radioactive debris from Onagawa nuclear plant. The debris is made of wood, plastic and cloth etc.. They have been incinerated from the morning of 12/13 to 12/14 evening, for 34 hours in total. The total amount to be incinerated was 60 tons.
NHK reports it was to check how much radiation is emitted by incinerating but they also say that the debris was checked in Onagawa cho and was found to be safe, which does not make any sense.
The result will not be published until mid January. They are trying to reduce the radiation level of the debris by incinerating until it becomes lower than 8,000 Bq/Kg, but it means the excessive amount of radiation will evaporate into the air. If they become lower than 8,000 Bq/Kg, they will use it for landfill in Tokyo bay or for material of concrete. They have already made a plan to accept 100,000 tons on the assumption of that they can make the citizens understand "right".
(Source)
(Source)
東日本大震災で出た宮城県女川町のがれきを東京23区の自治体などが受け入れるにあたって、東京・大田区の清掃工場では、運び込んだがれきの放射性物質の濃度などを調べるための試験的な焼却が始まりました。
試験的な焼却は、東京23区でつくる清掃組合が運営する東京・大田区の大田清掃工場で13日朝から始まりました。清掃工場には、女川町で事前に放射線量などを測って安全性を確認し、鉄道で東京に運ばれてきたがれきが持ちこまれました。がれきは木くずやプラスチック、布などの燃えるもので、家庭などから出た燃えるごみと混ぜあわせて焼却炉に入れられました。焼却炉では、およそ60トンのがれきを14日の夕方まで34時間燃やし続け、灰や排気ガスの放射性物質の濃度などを調べます。結果は来年の1月中に公表される予定で、燃やして出た灰の濃度が国が埋め立てができるとする1キログラム当たり8000ベクレルを下回るかどうかを確認することにしています。東京23区と多摩地域の自治体は、再来年3月までに女川町で出たがれき、およそ10万トンを受け入れる方針で、清掃工場の周辺地域で住民説明会などを開いたうえで、来年2月から本格的な受け入れを始めることにしています。各自治体が運営する清掃工場で焼却処理されたあと出た灰は、東京港にある埋め立て処分場に埋め立てるほか、一部はセメントの原料として利用される予定です。東京二十三区清掃一部事務組合の塚越浩副参事は「住民の理解が最も重要であり、試験結果についての情報提供を繰り返し行っていきたい」と話しています。被災地で出たがれきを東北地方以外で受け入れるのは、東京都が岩手県宮古市で出たがれきを受け入れたのに続くもので、宮城県内のがれきを受け入れるのを決めたのは東北地方以外で今回が初めてになります。