Decontamination volunteer "After hands, my chest started bleeding" / External exposure dose 110 mSv/y – Photo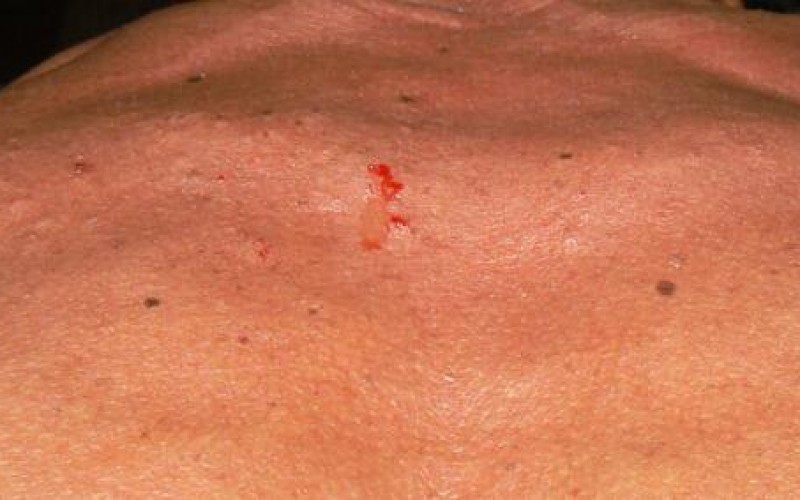 Following up this article.. [Photo] Fukushima decontamination volunteer "Blood suddenly splashes out of skin quite often. This is the reality." [URL]
On 7/15/2014, the volunteer decontaminator posted on Twitter that it started bleeding on his chest as well.
"My integral exposure dose (Without internal exposure) is 110 mSv/y. It started bleeding from my hands, and then, it bled from my chest tonight.
Small bulges (7mm diameter) appeared in patches and one of them splashed blood. (Picture attached on the top)"
See also.. Fukushima decontamination volunteer "My left eye had bleeding when I woke up this morning" – Photo [URL 2]
Iori Mochizuki
You read this now because we've been surviving until today.
_____
Français :
Le bénévole de la décontamination : "Après les mains, ma poitrine commence à saigner " / Radioactivité ambiante de 110 mSv/an – Photo
Article lié : [Photo] Un décontamineur de Fukushima bénévole : "Mon sang s'exsude de ma peau assez souvent. C'est la réalité."
Le 15 juillet 2014, le décontamineur bénévole publie sur Twitter que sa poitrine aussi a commencé à saigner.
15 juillet 2014 à 01:01
"Ma dose intégrale d'exposition (hors exposition interne) est de 110 mSv/an. Mes mains s'étaient mises à saigner et puis, cette nuit, ma poitrine a commencé à saigner elle aussi.
De petits boutons (7 mm de diamètre) sont apparus par endroits et l'un d'eux a éclaté et saigné. (Photo en haut ci-dessus)"
Voir aussi : Le bénévole de la décontamination de Fukushima : "Mon œil gauche saigne depuis que je me suis levé ce matin" – Photo
Vous pouvez lire ceci parce que nous avons survécu jusqu'à aujourd'hui.