Fukushima plant worker job offer / "Remove and assort debris in Fukushima plant, No insurance supported"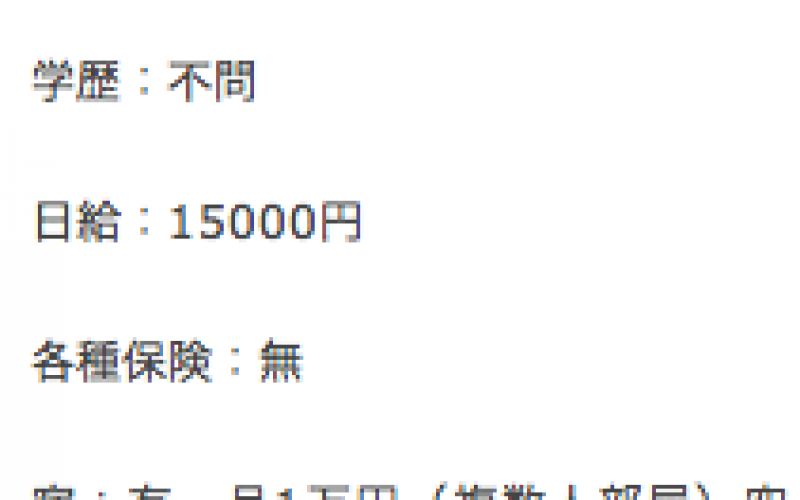 There are lot of job offers to work in crippled Fukushima nuclear plant on the internet.
Fukushima Diary found one of those job offers supporting no insurance.
None of the details about the promoter are announced. Specific job description is not explained either but the job offer is categorized as "Debris removal and assorting in Fukushima plant".
They accept inexperienced people to promise to supply "education" before actually starting to work in Fukushima plant.
The necessary document to apply is only basic resident register card or driving license, and a picture of the face to be sent by email.
They offer to male with Japanese nationality from 20 to 58 years old. The daily salary is supposed to be 15,000 yen, however meal will not be supported and vacancy of accommodation is described to be "limited". More importantly, they state no insurance will be supported.
The job offer description also reads those who have been related to Yakuza, with criminal record or tattoo are rejected.
The offer was posted on 6/23/2014 and still available.
http://josen.pc7.jp/99/%E7%A6%8F%E5%B3%B6%E7%AC%AC1%E5%8E%9F%E7%99%BA%E6%95%B7%E5%9C%B0%E5%86%85%E4%BD%9C%E6%A5%AD%E5%93%A1%E5%8B%9F%E9%9B%86/
Iori Mochizuki
You read this now because we've been surviving until today.
_____
Français :
Offre d'emploi à la centrale de Fukushima : "Retirer et rangement des gravas dans la centrale de Fukushima plant, aucune assurance fournie"
On trouve beaucoup d'offres d'emploi pour aller travailler à la centrale nucléaire dévastée sur internet.
Le Fukushima Diary en a trouvé une qui ne propose aucune assurance de protection individuelle.
Aucun détail n'est fourni sur l'entité qui passe l'annonce. Le travail exact n'est pas précisément expliqué non plus mais elle est rangée dans la catégorie "retrait des gravas et rangement à la centrale de Fukushima".
Ils acceptent les gens sans expérience en leur promettant une "formation" avant de réellement commencer le travail sur site dans la centrale de Fukushima.
Les documents nécessaires pour postuler ne consistent qu'en la carte nationale d'identité basique ou le permis de conduire et une photo d'identité à envoyer par mail.
L'offre est réservée aux hommes de nationalité japonaise âgés de 20 à 58 ans. Le salaire journalier est soi-disant de 15 000 yens, néanmoins les repas ne sont pas compris et le logement est décrit comme "succinct". Plus important, ils affirment qu'aucune assurance ne viendra couvrir le travail.
La description de l'offre d'emploi dit aussi que ceux qui ont des liens avec les Yakuza, au casier judiciaire non vierge ou tatoués ne sont pas acceptés.
L'offre a été publié le 23 juin 2014 et elle est toujours à pourvoir.
http://josen.pc7.jp/99/%E7%A6%8F%E5%B3%B6%E7%AC%AC1%E5%8E%9F%E7%99%BA%E6%95%B7%E5%9C%B0%E5%86%85%E4%BD%9C%E6%A5%AD%E5%93%A1%E5%8B%9F%E9%9B%86/
Vous pouvez lire ceci parce que nous avons survécu jusqu'à aujourd'hui.