[Column] Going home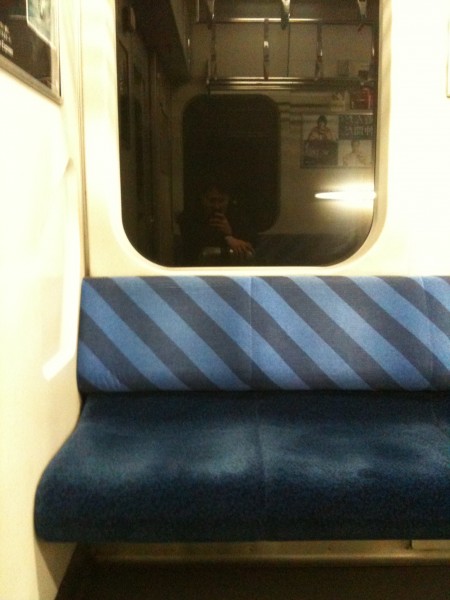 I sat down on the bench.
12/15/2011, I was on the way to Narita airport.
My mom came to the station to see me off but noticed that I didn't have a belt to lock my suitcase, she rushed to a near convenience store to buy something to tie my suitcase.
Coming to the last moment, I found her panicing to be obsessed with trivial thing.
Me, I was still sick. couldn't stop coughing, was still feverish and couldn't concentrate on things, but was in the uplifting feeling.
I looked around the station. I had been using the station since I was 11 years old to go to a cram school, junior high school, high school and work. (went to uni from another station)
The bench, vending machine, advertisement, houses and buildings, I was familiar to all of those things. I knew I would have a day to break down to have left all those things behind.
The higher the mountain is, the deeper the valley is. Though I was in the uplifting feeling, I tried to flatten my mood. Stay chill, do only what matters. Don't give an emotional meaning to anything so I won't miss them so much. Living, this is the only reality, the source of every kind of value.
My mom came back with a funny vinyl string. I promised her to tie my suitcase with it later.
Wind blew. It's just a station. I authorize myself. I won't be dramatic.
Fortunately train came shortly. Doors opened. Almost nobody got off.
She said take care. I was, so are you.
I struggled to take my suitcase on the train. I think I saw her over the window.
The train started moving.
On the train, there was nothing new but my suitcase. I didn't even say long goodbye to most of my friends or family members. I wanted to leave like I went to a near convenient store. Actually, this is just the matter of how long you are stuck in the airplane, right ?
The train got into a tunnel and I saw myself in the window. This is me people see.
I was sitting with my legs stretched. Am I trying to make my legs look longer ? The seat is too hard to sit for 2 hours. The advertisements are cheesy and boring. Everybody looks dead as zombies.
Slashed everything so I won't miss them.
I went in the opposite direction from going home. Now that is not my home. My home is in me, so I won't need to go home forever.
Iori Mochizuki
_____
Français :
[Édito] En rentrant à la maison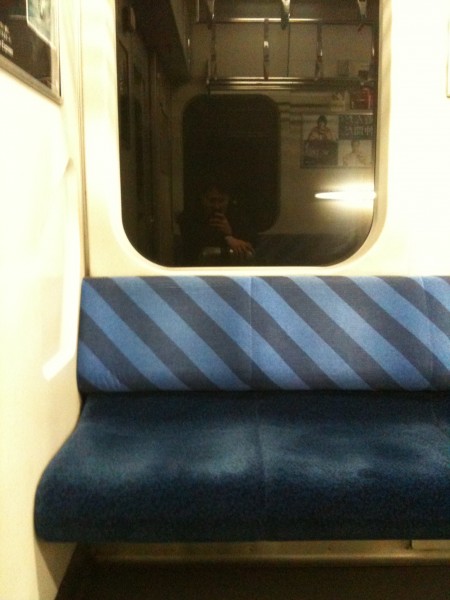 Je me suis assis sur le siège.
15 décembre 2011, J'étais en route vers l'aéroport de Narita.
Ma maman est venue à la gare pour me voir mais elle a remarqué que je n'avais pas de sangle pour fermer ma valise, elle s'est ruée au magasin le plus proche pour acheter quelque chose qui puisse ceinturer ma valise.
Arrivant au dernier moment, je l'ai vue paniquer, obsédée par des choses triviales.
Moi, j'étais malade. ne pouvant pas arrêter de tousser, toujours fiévreux et incapable de me concentrer sur quoi que ce soit mais avec le sentiment d'avancer.
J'ai regardé les alentours de la gare. J'y venais depuis que j'avais 11 ans pour aller à une école de bachotage, en junior high school, en high school et au travail. (j'allais à l'université à partir d'une autre gare)
Le siège, la machine vendant les tickets, les pubs, maisons et bâtiments, toutes ces choses m'étaient familières. Je savais que j'avais un jour pour m'effondrer d'avoir laissé tout ça derrière moi.
Plus haute est la montagne, plus profonde en est la vallée. Bien que j'étais dans ce sentiment de progression j'ai essayé d'aplanir mon humeur. Rester froid, ne faire que ce qui importe. Ne rien donner d'émotionnel à quoi que ce soit pour qu'ils ne me manquent pas trop. Vivre, c'est la seule réalité qui tienne, c'est la source de toute valeur.
Ma maman est revenue avec une amusante corde en vinyl. Je lui ai promis d'en entourer ma valise avec après.
Le vent soufflait. C'est juste une gare. Je m'autorise. Je ne serai pas dramatique.
Par chance, le train est rapidement arrivé. Les portes se sont ouvertes. Pratiquement personne n'en est descendu.
Elle m'a dit de faire attention. Je le faisais, comme toi.
J'ai bataillé pour mettre ma valise dans le train. Je pense que je l'ai vue par la fenêtre.
Le train a démarré.
Dans le train, il n'y avait rien de neuf à part ma valise. Je n'ai même pas fait de long adieu à la plupart de mes amis ou à ma famille. Je voulais partir comme j'allais à un magasin. En fait, c'est seulement la question de savoir combien de temps on reste dans l'avion, n'est-ce pas ?
Le train est entré dans un tunnel et je me suis vu sur la fenêtre. C'est comme ça que les gens me voient.
J'étais assis les jambes tendues. Est-ce que j'essaye de faire croire mes jambes plus grandes ? Le siège est trop dur pour rester assis pendant 2 heures. Les pubs sont nulles et ennuyeuses. Tout le monde a l'air aussi mort que des zombies.
J'ai tout cassé, alors je ne leur manquerai pas.
Je suis parti dans la direction opposée à celle de ma maison. A présent ce n'est plus ma maison. Ma maison est en moi, alors je n'aurai plus jamais besoin de rentrer à la maison.