Water level is only 40cm from the bottom in reactor1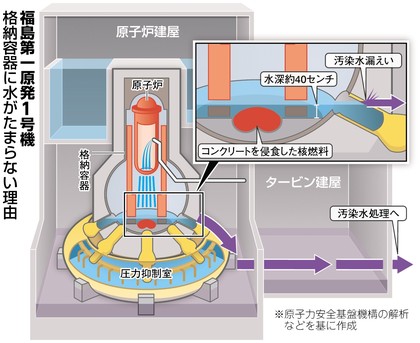 Related to this article..Water level was only 60cm from the bottom in reactor2
It was 60cm in reactor2, but it is worse in reactor1.
Japan nuclear energy safety organization analyzed the water level from the connection of the amount of nitrogen injected to PCV and the air pressure of PCV.
The result is that the water level is only 40cm from the bottom of the container vessel though they inject 6 tones of water per hour.
The pipes to connect PCV and torus room got holes of several cm diameter. All the water injected leak from the holes and flow into the basement floor of the reactor building. It flows to the basement floor of the turbin building beside the reactor building through the pipes and cables.
The thickness of PCV is 30mm, but the pipes to torus room are only 7.5mm thick.
Tepco used to assume the water level was 1.8m but it turned out to be wrong as always.
Tepco plans endoscope operation to know the temperature of inside of the PCV by the end of this year.
1号機「水位40センチ」 格納容器下部に穴 漏水か
2012年5月22日 07時02分
写真
東京電力福島第一原発1号機には毎時六トン前後の冷却水が注入されているのに、格納容器内の水位はわずか四十センチほどしかない可能性が、原子力安全基盤機構(JNES)の解析で分かった。2号機の水位は約六十センチしかないことが実測で判明しており、格納容器損傷の深刻さをあらためてうかがわせた。
解析は、注水量や格納容器への窒素の注入量と、格納容器内の圧力変化の関係を調べ、どこにどれくらいの損傷があれば、変化をうまく説明できるか探る手法を使った。
その結果、格納容器本体と下部の圧力抑制室をつなぐ配管周辺に直径数センチの穴が開いている▽穴の場所は、格納容器のコンクリート床面から約四十センチの高さで、穴から大量に水が漏れ、水はそれより上にはない-との結論になった。
漏れた水は、原子炉建屋地下に流れた後、配管やケーブルなどを通す穴を通じ、隣接するタービン建屋地下に流れ込んでいるとみられている。東電は1号機の格納容器の水位は約一・八メートルあると推定しているが、それより大幅に低い。
格納容器の厚みは三センチほどあるが、穴があるとみられる配管(直径一・七五メートル)の厚みは七・五ミリと四分の一程度しかない。専門家からは、配管は構造的に弱いとの指摘が出ていた。
溶け落ちた核燃料が完全に水に漬かっていないことも懸念されるが、JNESの担当者は「格納容器内の温度は三〇度程度と高くはない。水に漬かって冷やされているとみられる」と指摘する。
廃炉を実現するためには、格納容器の損傷部を補修し、圧力容器ごと水没させる水棺にすることが必要。担当者は「解析結果は損傷部の特定に役立つ。今後はカメラによる実測も検討しなければならない」と話した。
(東京新聞)
Iori Mochizuki