Huge tanks shipped to Fukushima plant / One gets full within less than 2 days
Following up this article.. Tepco to carry new contaminated water tanks directly from the factory by transport ships [URL]
Tepco started carrying 6 contaminated water tanks from the factory in Mitsubishi heavy industries in Hyogo to Fukushima plant.
The contaminated water is increasing faster than Tepco builds the new tanks in the site. Tepco attempts to catch up with the contaminated water increasing by transferring the completed tanks directly from the manufacture.
One is 15.6m tall, the diameter is 8.1m. The capacity is 700m3, but one tank gets full only within 2 days because 400m3 of groundwater flows to the basement of the plant buildings every single day.
Currently the storage facility is 91% full. It can be overflowing this coming June. (cf, Contaminated water storage already 91% full / Could be overflowing by this coming June [URL2]) Tepco states they are going to purify all 450,000 m3 of contaminated water by the end of next March. However the multiple nuclide removing system ALPS (Advanced Liquid Processing System) hasn't been in the operation without having the continuous troubles. (cf, 4,200,000,000Bq of β nuclides and 10,000,000 Bq of γ nuclides leaked from ALPS again / New technology never get into operation [URL3]) If the new technology of ALPS turns to fail with other freezing water wall plan, Tepco would need to continue transferring these tanks for over half a century until they decommission the plant.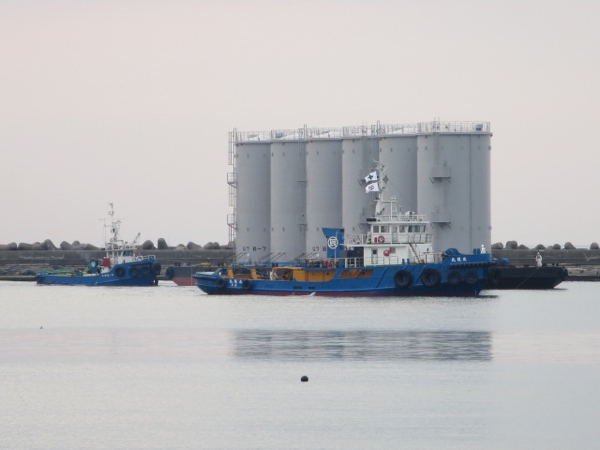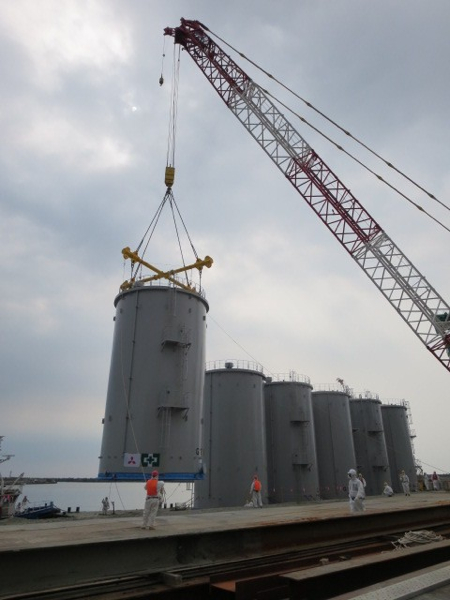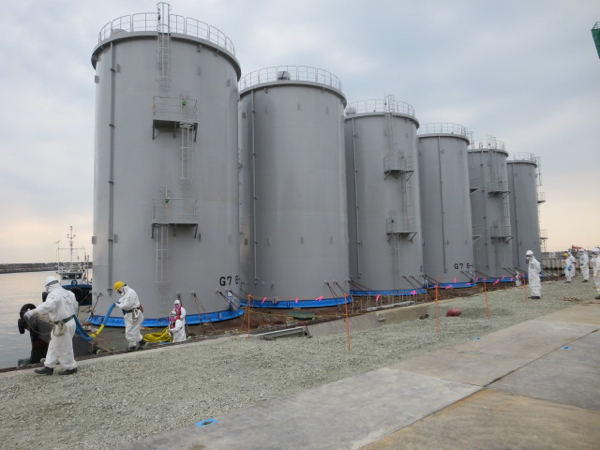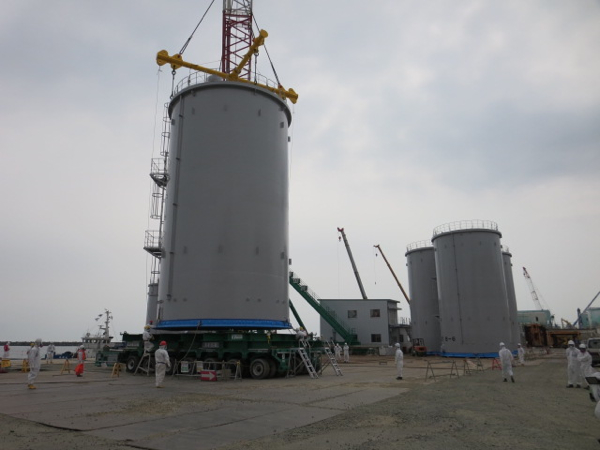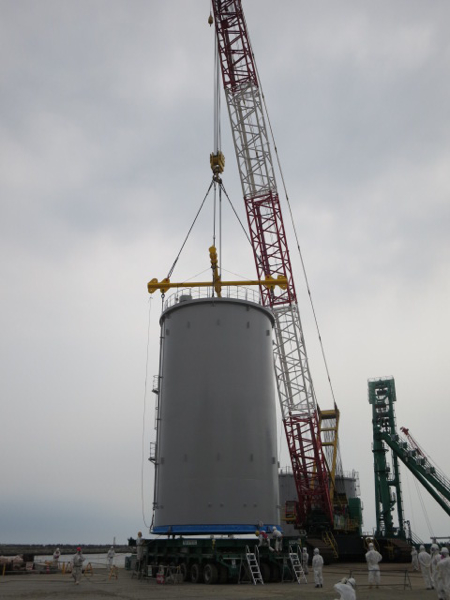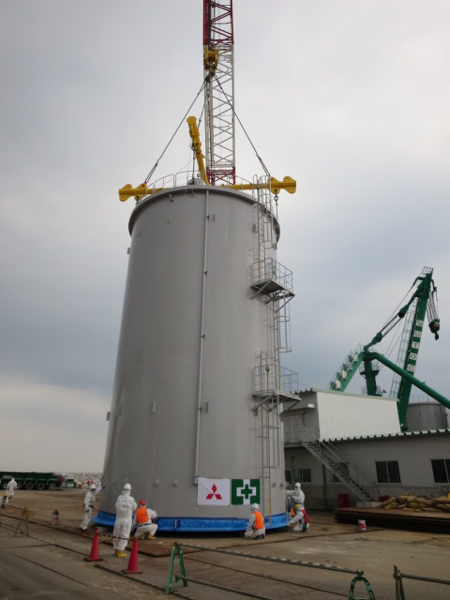 http://photo.tepco.co.jp/date/2014/201404-j/140417_01j.html
Iori Mochizuki
You read this now because we've been surviving until today.
_____
Français :
D'énormes citernes expédiées à la centrale de Fukushima / Une remplie en moins de 2 jours
Article lié : Tepco va se faire livrer de nouvelles citernes par bateau directement de l'usine
Tepco a reçu 6 citernes à eaux extrêmement radioactives livrées à la centrale depuis l'usine de Mitsubishi industries lourdes de Hyogo.
Le volume des eaux extrêmement radioactives augmente plus vite que ce que Tepco peut construire en nouvelles citernes sur site. Tepco tente de rattraper le rythme en se faisant livrer des citernes déjà totalement montées à l'usine du fabricant.
Elles font 15,6 m de haut pour un diamètre de 8,10 m. Leur capacité est de 700 m³, une citerne est remplie en moins de 2 jours parce que le flot des eaux inondant les bâtiments de la centrale est de 400 m³ par jour.
Actuellement, les équipements de stockage de  ces eaux sont pleins à 91 %. Ça devrait déborder à partir de juin (cf. Eaux extrêmement radioactives – stockage déjà saturé à 91 % : ça devrait déborder courant juin). Tepco affirme qu'ils auront purifié les 450 000 m³ d'eaux extrêmement radioactives pour la fin mars de l'an prochain. Néanmoins, le système de filtrage multi-nucléide ALPS (Advanced Liquid Processing System) n'a jamais été mis en fonction sans connaître systématiquement des problèmes. (cf. 4,2 milliards de Bq en β et 10 millions de Bq en γ ont encore fuit de ALPS : Cette nouvelle technique n'a jamais été opérationnelle) Si la nouvelle technique de ALPS reste inefficace, ainsi que l'autre projet de mur souterrain congelé, Tepco devra continuer de remplir ces citernes pendant plus du demi-siècle que demande le démantèlement de cette centrale.
http://photo.tepco.co.jp/date/2014/201404-j/140417_01j.html
Vous pouvez lire ceci parce que nous avons survécu jusqu'à aujourd'hui.