Death cases of famous people by Yahoo news spiked up by 70% from 2010 to 2012
Yahoo Japan news monthly publishes the death cases of famous people.
It doesn't represent the entire population movements of Japan. However, it's significantly increasing since Autumn of 2012. The total death cases of 2012 was 169% of 2010. It's not decreasing even in 2013.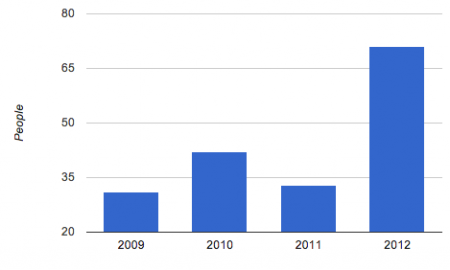 ↓ The monthly trend from 1. 2009 to 4. 2013.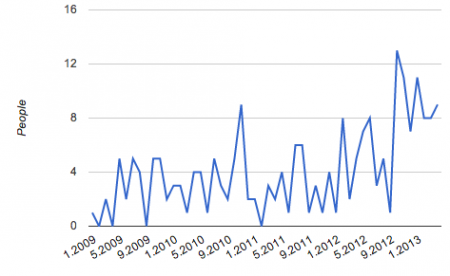 http://dailynews.yahoo.co.jp/fc/domestic/obituary/
Iori Mochizuki
Thank you for considering donation !
Monthly donation for the company paypal is also helpful !
_____
Français :
Sous Yahoo News, le nombre de décès de gens célèbres est monté de 70 % entre 2010 et 2012
Yahoo Japan News publie mensuellement le nombre de cas de décès des gens célèbres.
Ça ne représente pas tous les mouvements de la population nippone mais l'augmentation est significative depuis l'automne 2012. Le nombre total de décès de 2012 est 169 % de celui de 2010. Il n'y a aucune baisse même en 2013.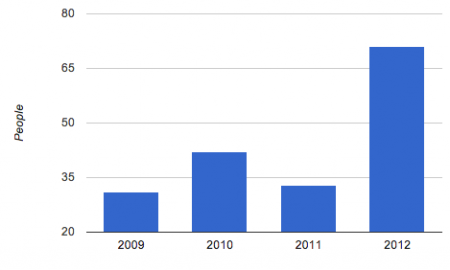 ↓ L'évolution mensuelle entre janvier 2009 et avril 2013.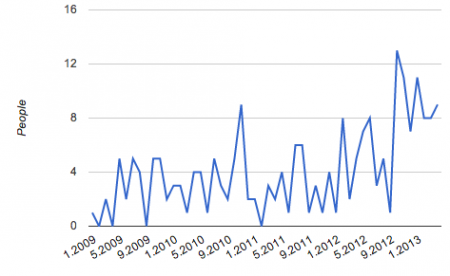 http://dailynews.yahoo.co.jp/fc/domestic/obituary/
Merci de penser à un don.
Les dons mensuels à la société sont aussi très utiles.