More hospital food will be from contaminated area
Ministry of Agriculture, Forestry and Fisheries is spreading the propaganda called "Support by eating".
They are pushing food from contaminated area even to hospital and senior citizens' home.
On 8/22/2012, MAFF sent an official request to Public Interest Incorporated Association "Japan medical kyushoku (Lunch) association" to consume more food from the contaminated area.
全国規模での被災地産食品の消費拡大が図られるよう、医療施設、介護・福祉施設において食事提供の業務をされている貴会員の皆様に、被災地産食品の利用の促進を働きかけていただくなどご尽力を賜りますようお願い申し上げます。
<Translate>
In order to improve the consumption of food from disaster area, we request you to actively purchase and consume food from disaster area for medical facilities and nursing facilities.
<End>
When you are hospitalized, you can not choose the origin of food.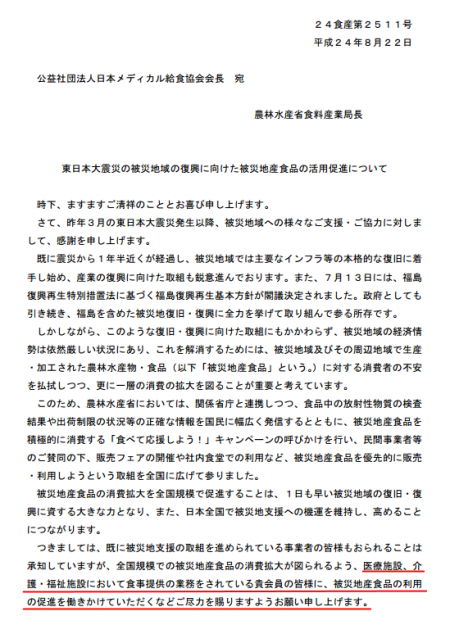 Iori Mochizuki