360 Bq/Kg detected from sand beside elementary school of Tokyo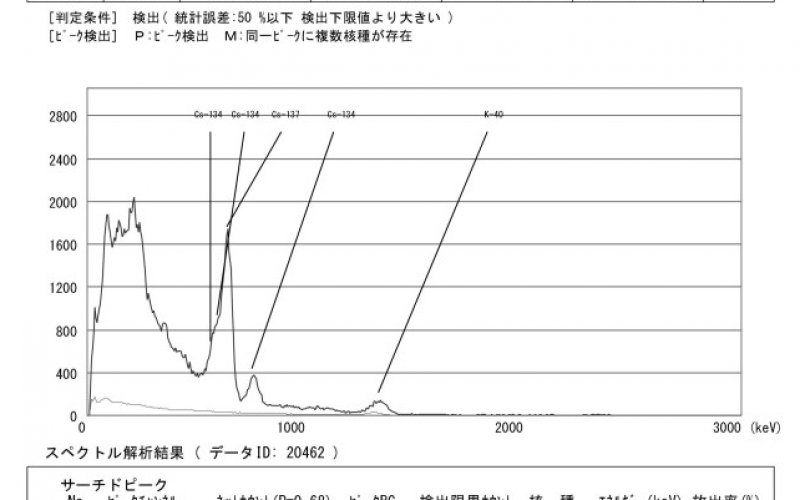 On 9/28/2015, a citizen's radiation measurement station "Fujimi-ru" reported they measured 359 Bq/Kg of Cs-134/137 from sand in Tokyo. This is the equivalent of 350% of food safety limit.
The sampling location was beside an elementary school's playground located in Hachioji of Tokyo.
Cs-134 density was 88.2 Bq/Kg, Cs-137 density was 271 Bq/Kg to prove this is from Fukushima accident.
The exact location of the school is not announced.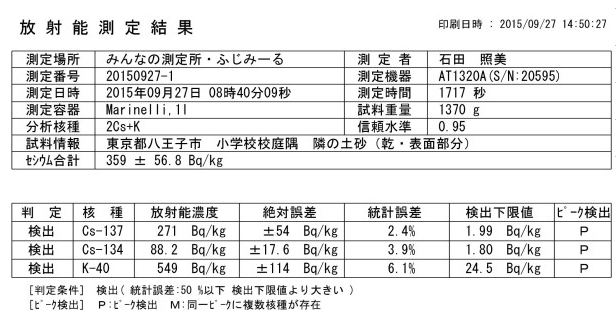 http://fujimi-ru.info/20462_toukyou_hatiouzi_syougakkou_suna/
Iori Mochizuki
_____
à côté d'une école primaire de Tokyo, 360 Bq/kg dans le sable

Le 28 septembre 2015, la station privée de mesure  de la radioactivité "Fujimi-ru" rapporte qu'ils ont relevé 359 Bq/kg de césium 134/137 dans du sable de Tokyo. C'est équivalent à 350% de la limite de sécurité alimentaire.
L'emplacement de l'échantillonnage est à côté de l'aire de jeux de l'école élémentaire située à Hachioji dans Tokyo.
La radioactivité en Cs 134 était de 88,2 Bq/kg, celle du Cs-137 de 271 Bq/kg ce qui prouve qu'il s'agit bien de l'accident de Fukushima.
La localisation exacte de l'école n'est pas précisée.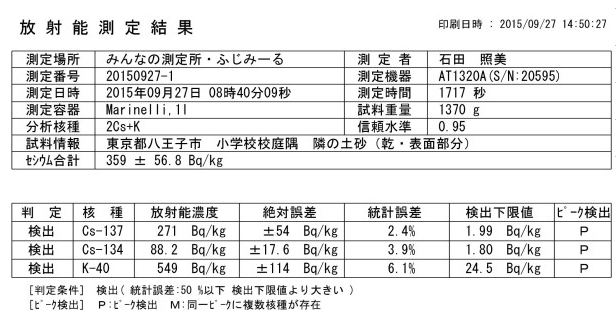 http://fujimi-ru.info/20462_toukyou_hatiouzi_syougakkou_suna/