6 intense quakes hit Hyuga-Nada within 5 hours / The western end of Nankai Trough
According to Japan Meteorological Agency, 6 intense quakes hit Hyuga-nada within only 5 hours on 8/29/2014.
It started at 1:34 of 8/29/2014 (JST). Magnitude was 4.3. The last one occurred at 6:59 of the same day and 3 more quakes hit the same location approx. within 24 hours.
During the first 5 hours, M6.1 level of the quake happened twice.
Hyuga-nada is east offshore of Kyushu, where is the western end of "Nankai Trough".  (cf, The potential Nankai megathrust earthquake would cause 220 trillion yen damage and 5 million evacuees [URL])
↓ The location of Nankai Trough (Red Line) and Hyuga-nada, where the continuous intense quakes occurred. (Wikipedia)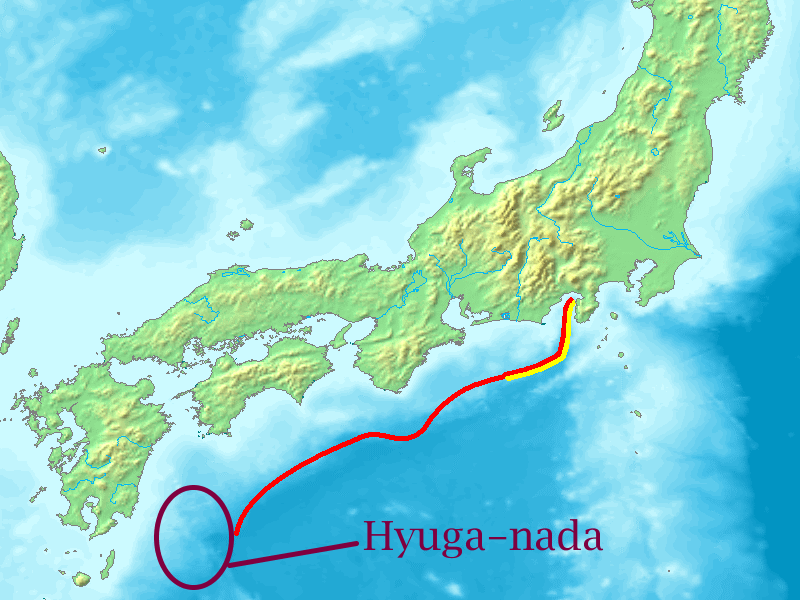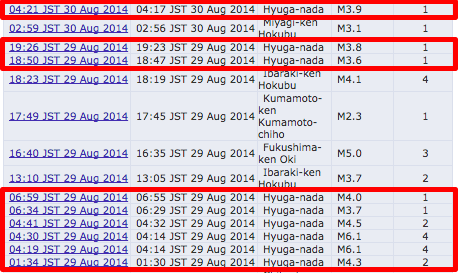 http://www.jma.go.jp/en/quake/quake_local_index.html
Iori Mochizuki
You read this now because we've been surviving until today.
_____
Français :
6 séismes intenses sur Hyuga-Nada en 5 heures : l'extrémité ouest de la fosse de Nankai

Selon la Japan Meteorological Agency, ce 29 août 2014, 6 séismes intenses ont frappé Hyuga-nada en seulement 5 heures .
Ça a commencé à 01:34 (JST). Sa magnitude était de 4,3. Le dernier a eu lieu à 06:59 ce même jour et 3 autres séismes on frappé au même endroit en approximativement 24 heures.
La magnitude 6,1 a été atteinte deux fois au cours de ces 5 heures.
Hyuga-nada est à l'Est au large de Kyushu, là où se trouve l'extrémité occidentale du "chenal de Nankai". (cf. Le probable méga-séisme de Nankai va coûter 220 milliards de yens de dégâts et faire 5 millions d'évacués)
↓ Le chenal de Nankai (ligne rouge) et Hyuga-nada, là où ont eu lieu les intenses séismes. (Wikipedia-jp)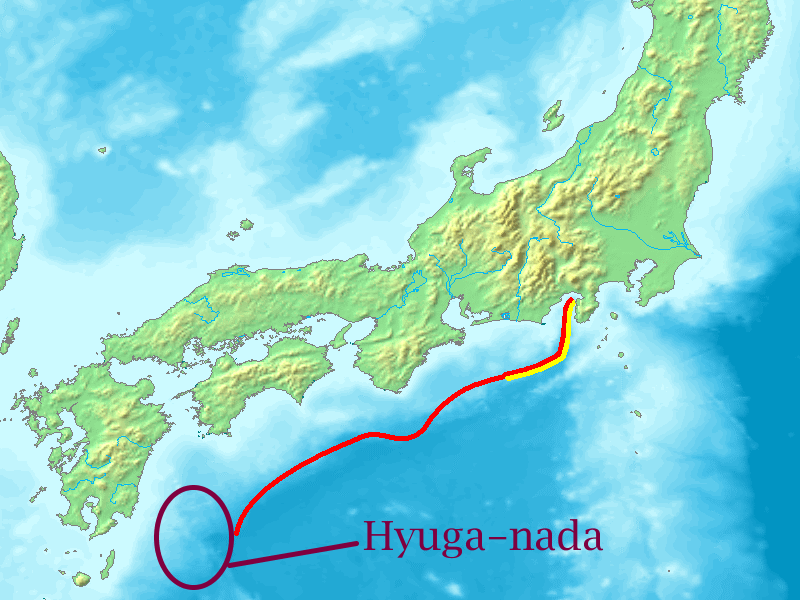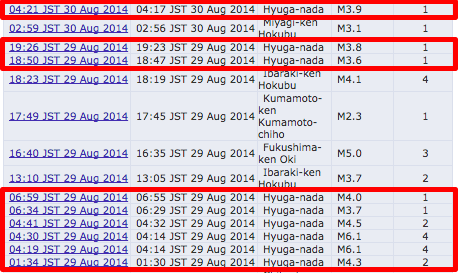 http://www.jma.go.jp/en/quake/quake_local_index.html
Vous pouvez lire ceci parce que nous avons survécu jusqu'à aujourd'hui.
Tags:
311
,
earthquake
,
fukushima
,
hyuga-nada
,
japan
,
japan meteorological agency
,
nankai
,
nuclear
,
quake
,
radiation
,
tepco