[Buoyancy of groundwater ?] 2 water reservoirs observed uplifted by 40cm
According to Tepco, two contaminated water reservoirs were found uplifted by up to 40cm.
Tepco found that on 8/10/2013 but didn't report for 3 days. The reason is not announced.
In order to stock the increasing groundwater, Tepco built underground reservoirs. Since Tepco found water leakage, they have not been used.
(cf, Highest level of all β measured from "empty" reservoir's leakage detector hole [URL])
The uplifted reservoirs are No.3 and No.4. No.3 had 30m*20m area on the top "bulged" by 40cm. No.4 had 10m*10m area on the top "bulged" by 15cm.
As the countermeasures, Tepco plans to gravel the tops (50cm thickness).
In case of local downpour, Tepco is going to pump up the groundwater from under the bottom of the reservoirs.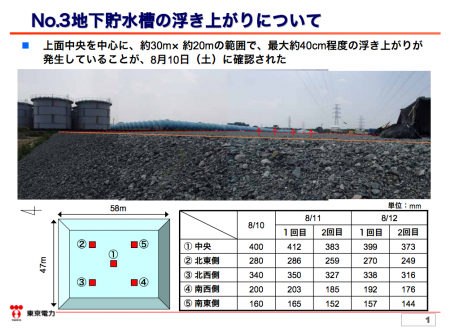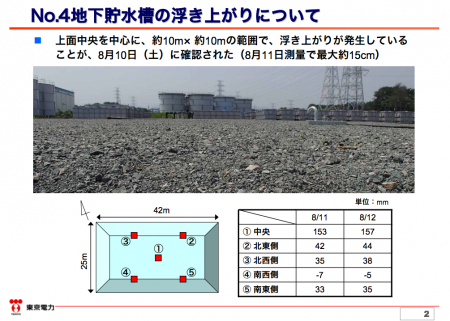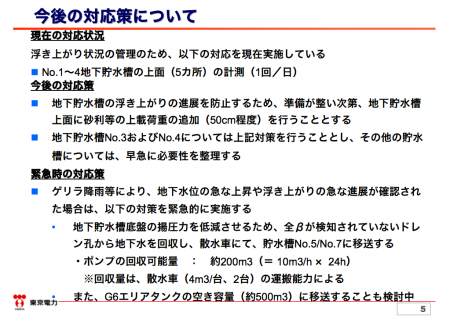 http://www.tepco.co.jp/nu/fukushima-np/handouts/2013/images/handouts_130813_06-j.pdf
Iori Mochizuki
Truth is not truth because everyone believes in it. It's the truth because it's consistent and can't be rebutted.
_____
Français :
[Poussée des eaux souterraines ?] 2 réservoirs souterrains se sont soulevés de 40 cm
Selon Tepco, 2 réservoirs à eau extrêmement radioactive se sont soulevés jusqu'à 40 cm.
Tepco l'a découvert le 10 août 2013 mais n'en a pas parlé pendant 3 jours. La raison n'en est pas donnée.
Tepco avait construit des réservoirs souterrains pour stocker les eaux souterraines en augmentation. Ils ne sont plus utilisés depuis que Tepco leur a trouvé des fuites. (cf. Nouveau record de fuites en β du réservoir "vide" n°2 : un milliard cent millions de Bq/m³)
Les réservoirs soulevés sont les n°3 et 4. Le 3 fait 30 x 20 m de surface au sol et faisant "saillie" de 40 cm. Le n° 4 fait 10 x 10 m au sol et en "saillie" de 15 cm.
La solution de Tepco est de prévoir de le recouvrir de graviers (sur 50 cm d'épaisseur).
En cas de d'averse lourde localisée, Tepco pompera les eaux souterraines d'en-dessous les réservoirs.
http://www.tepco.co.jp/nu/fukushima-np/handouts/2013/images/handouts_130813_06-j.pdf
Ce n'est pas la vérité parce que tout le monde y croit. C'est la vérité parce que c'est cohérent et irréfutable.