[300m3 leakage] Tepco "Leaked contaminated water may have penetrated from the bottom of the tank into the ground "
On 8/22/2013, Fukushima Diary reported that a part of the leaked 300m3 water possibly flowed to the sea.
(cf, [300m3 leakage] Vice president of Tepco "Leaked water may have flowed to the sea" [URL])
In the press conference of 8/23/2013, Tepco announced there is another possibility that the leaked water penetrated to the groundwater through the base concrete and soil improvement area right underneath the tank.
The leaking tank is located upstream of the groundwater bypass wells. Tepco is planning to discharge the water pumped up from those wells without filtering, but this leakage may affect their discharging plan.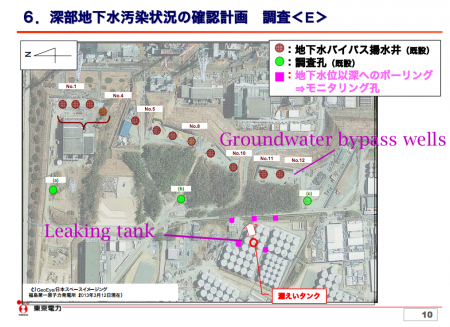 http://www.tepco.co.jp/nu/fukushima-np/handouts/2013/images/handouts_130823_03-j.pdf
Iori Mochizuki
You can ignore the truth but the truth won't ignore you.
_____
Français :
[fuite de 300 m³] Tepco : Les eaux extrêmement radioactives de la fuite ont pu passer en sous-sol par le fond de la citerne"
Le 22 août 2013, le Fukushima Diary publiait qu'une partie des 300 m³ d'eaux ayant fuit aient rejoint la mer. (cf. [fuite de 300 m³] Le vice président de Tepco : "Les eaux de la fuite sont sans doute parties en mer")
Au cours de la conférence de presse du 23 août 2013, Tepco a annoncé qu'il est possible aussi que les eaux des fuites soient passées dans le sous-sol à travers l'embase de béton et les renforcements du sol situés exactement en-dessous de la citerne.
La citerne qui fuit est située en amont des forages de dérivation des eaux souterraines. Tepco prévoit de déverser ces eaux sans épuration préalable mais cette fuite peut venir perturber leur programme.
http://www.tepco.co.jp/nu/fukushima-np/handouts/2013/images/handouts_130823_03-j.pdf
Vous pouvez ignorer la vérité mais la vérité ne vous ignorera pas.