336 Bq/Kg from vacuum cleaner dust in Sendai Miyagi
According to a citizen's radiation measuring station in Sendai city Miyagi, 336 Bq/Kg of Cs-134/137 was measured from the vacuum cleaner dust.
The measuring date was 5/7/2013.
Cs-134 : 108.4 Bq/Kg
Cs-137 : 227.6 Bq/Kg
Location : Sendai city Miyagi
The vacuum cleaner was used from 11. 2012 to 4. 2013. (6 months)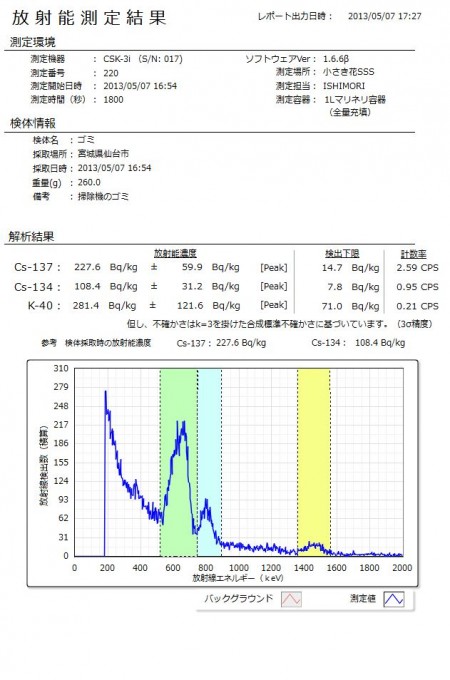 http://www.chiisakihana.net/20130507soujiki/
Iori Mochizuki
Thank you for considering donation !
Your donation will be spent for:
The legal procedure to register Fukushima Diary headquarters. (320USD)
So far, 120 USD to go.
_____
Français :
336 Bq/kg dans de la poussière d'aspirateur à Sendai, préfecture de Miyagi
Selon une station privée de mesure de la radioactivité située dans la ville de Sendai de la préfecture du Miyagi, on a relevé 336 Bq/kg de Cs 134/137 dans la poussière d'un aspirateur.
Le relevé est du 7 mai 2013.
Cs-134 : 108,4 Bq/kg
Cs-137 : 227,6 Bq/kg
Lieu : Ville de Sendai, Miyagi
L'aspirateur a été utilisé de novembre 2012 à avril 2013. (6 mois)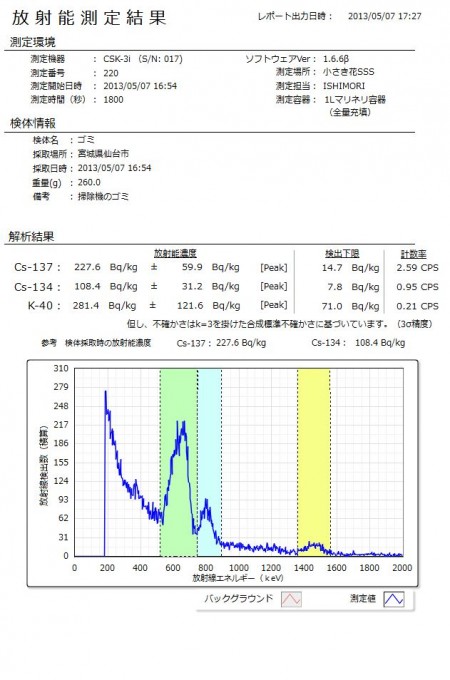 http://www.chiisakihana.net/20130507soujiki/
Merci de penser à un don
Vos dons vont être utilisés pour :
La procédure légale d'enregistrement du siège de Fukushima Diary. (320 USD)
Pour l'instant, il manque 120 USD.