4500 Mega Bq/m3 of Tritium detected on the east side of reactor2, "Sr-90 data is UNDER ANALYSIS"
Following up this article..500,000,000 Bq/m3 of Tritium and 1,000,000 Bq/m3 of Sr-90 detected from groundwater east side of reactor2 [URL]
On 6/22/2013, Tepco announced they measured 450,000,000 Bq/m3 of tritium from an observation hole beside Fukushima nuclear plant port. The sampling date was 6/14/2013.
It is assumed to be located on the east side of reactor2, where they have measured 500,000,000 Bq/m3 of Tritium since last December.
The Tritium level is still significantly high.
The data of Strontium-90 is still under analysis. (cf, Sr-89/90 data of reactor1~4 water intake has been "under analysis" since 2012 [URL 2])
Strangely, they don't analyze the samples for Tritium and Strontium-90 in the North side of reactor5 ~ 6 water outlet and the south water outlet of the plant. The reason is not announced.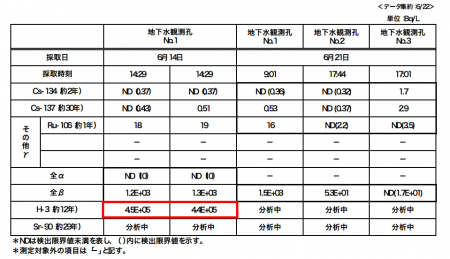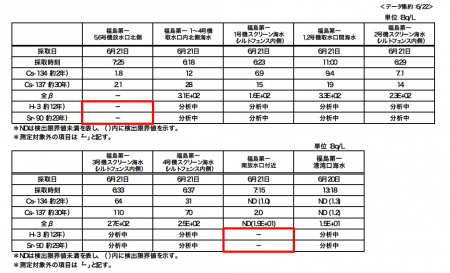 http://www.tepco.co.jp/nu/fukushima-np/f1/smp/2013/images/2tb-east_130622-j.pdf
Iori Mochizuki
Japanese can stay as long as they need without visa and any equivalent certificate in Svalbard island (North of Norway). They can come and stay with no legal restriction. In order to research the place, proper equipment is necessary.
Your next support will be spent on the down jacket and pants. Goal : 300$
So far : 33$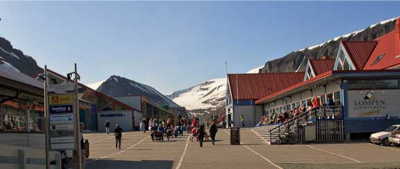 _____
Français :
4 500 MBq/m³ de tritium du côté Est du réacteur 2. C'est "ANALYSE EN COURS" pour le strontium 90
Article lié : Les eaux souterraines de l'est (= côté mer) du réacteur 2 sont à 500 millions de Bq/m³ de Tritium et 1 million de Bq/m³ de Strontium 90
Le 22 juin 2013, Tepco annonce qu'ils ont relevé 450 000 000 Bq/m³ de tritium (450 millions) dans un trou d'observation à côté du port de la centrale nucléaire de Fukushima. L'échantillon est du 14 juin 2013.
C'est dit provenir de l'Est du réacteur 2 où ils avaient relevé 500 000 000 Bq/m³ de tritium (500 millions) en décembre dernier.
Le niveau du tritium est particulièrement élevé.
Les données du strontium 90 sont toujours en cours d'analyse. (cf. Le strontium 89/90 des prises d'eau des réacteurs 1~4 est "en cours d'analyse" depuis 2012)
De façon curieuse, ils ne recherchent pas le tritium et le strontium 90 dans leurs échantillons du déversoir nord des réacteurs 5 et 6 et dans ceux du déversoir sud. Ils n'en donnent pas la raison.
http://www.tepco.co.jp/nu/fukushima-np/f1/smp/2013/images/2tb-east_130622-j.pdf
Les japonais peuvent rester sur l'île de Svalbard (Nord de la Norvège) autant qu'ils veulent et sans visa ou équivalent. Ils peuvent venir et rester dans aucune restriction juridique. Un équipement adapté est nécessaire pour prospecter l'endroit.
Vos prochains soutiens seront dépensés en veste et pantalons. But : 300$
Acquis : 33$