August's 3rd worker died in Fukushima plant after the work of retained contaminated water beside Reactor 1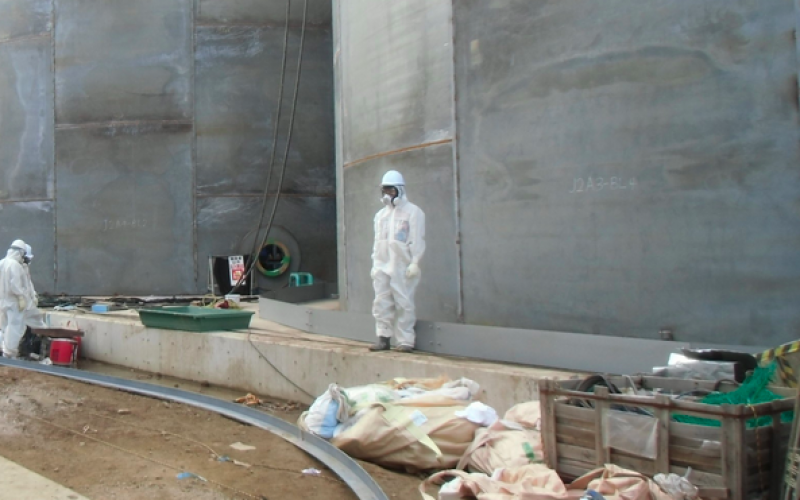 On 8/22/2015, Tepco announced another Fukushima worker died in the plant.
This is not covered by the mass media for some reason.
At 13:10 of 8/21/2015, it was reported to the emergency headquarters that a subcontract worker lost the consciousness. The worker was transporting equipment related to the retained contaminated water beside Reactor 1 turbine building.
The worker was sent to Iwaki Kyouritsu Hospital by ambulance but confirmed to be dead at 15:47 of the day.
The age and gender are not reported.
In August, 3 workers are already dead in Fukushima plant.
(cf, Another Fukushima worker died after leaving the frozen wall area / Tepco "the cause of death is not identified" [URL 1])
(cf, One more Fukushima worker found dead with his head caught in the lid of a vacuum truck [URL 2])
http://www.tepco.co.jp/nu-news/2015/1258173_6869.html
http://www.tepco.co.jp/nu/fukushima-np/handouts/2015/images/handouts_150821_10-j.pdf
Iori Mochizuki
_____
Français :
Un 3e ouvrier meurt dans la centrale de Fukushima en travaillant sur les eaux radioactives à côté du réacteur 1
Le 22/08/2015, Tepco annonce qu'un autre travailleur de Fukushima est mort dans la centrale.
Ce n'est pas couvert par la grande presse.
Le 21 août 2015 à 13:10, on a signalé aux urgences qu'un travailleur sous-traitant avait perdu conscience. Ce travailleur transportait du matériel pour les eaux extrêmement radioactive retenues à côté du bâtiment de la turbine du réacteur 1.
Il a été envoyé en ambulance à l'hôpital d'Iwaki Kyouritsu mais sa mort a été confirmé à 15h47. Son âge et son sexe ne sont pas précisés.
3 travailleurs sont donc morts dans l'usine de Fukushima en Août 2015.
Refs :
* Un autre travailleur de Fukushima meurt en sortant de la zone du mur congelé – Tepco : "la cause de la mort n'est pas établie"
* Un autre travailleur de Fukushima mort, la tête coincée par le couvercle d'un camion-pompe
http://www.tepco.co.jp/nu-news/2015/1258173_6869.html
http://www.tepco.co.jp/nu/fukushima-np/handouts/2015/images/handouts_150821_10-j.pdf