Tsunami embankment in Iwaki is still just sandbags / Plants are starting to grow up – Photo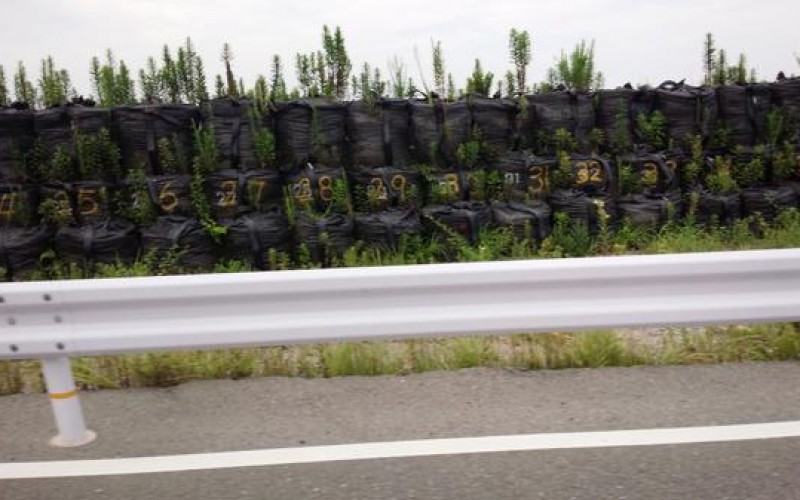 Having catastrophic Tsunami damage, the embankment of Iwaki is still remaining just "sandbags".
A local citizen posted on Twitter on 8/9/2014. (Photo attached on the top)
Plants are already growing out of the bags, however no plan is announced to reconstruct the destroyed embankment.
The person comments a lot of people are surfing just over the sandbags regardless of the constant leakage of contaminated water from Fukushima plant.
https://twitter.com/yumechan2010/status/498074375598264321/photo/1
Iori Mochizuki
You read this now because we've been surviving until today.
_____
Français :
La digue para-tsunami d'Iwaki n'est toujours qu'en sacs de sable : Les plantes commencent à y pousser – Photo
Malgré les dégâts catastrophiques du tsunami, les endiguements d'Iwaki sont toujours de simples "sacs de sable". Un habitant l'a publié sur Twitter le 9 août 2014. (Photo ci-dessus)
Les plantes poussent déjà à travers les sacs, néanmoins aucun planification de la reconstruction des digues détruites n'est annoncé.
La personne déclare qu'un grand nombre de gens font du surf juste au-dessus des sacs de sable, sans tenir compte de fuites continues d'eau extrêmement radioactive à la centrale nucléaire de Fukushima.
https://twitter.com/yumechan2010/status/498074375598264321/photo/1
Vous pouvez lire ceci parce que nous avons survécu jusqu'à aujourd'hui.