Videos of SFP in reactor3
On 9/22/2012, Tepco dropped 7m of the steel truss to SFP3. (cf. 7m and 470kg of steel frame dropped into the SFP of reactor3, "566 fuel assemblies are in the pool")
According to Tepco's press release, which they didn't release in English, it was an mis-operation of the oil pressure fork.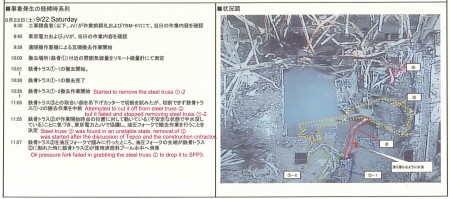 Tepco states no significant change in radiation level of atmosphere and pool water, and also the temperature were observed, but the data showed they measured extremely high level of radiation (173.0 mSv/h) at 9:28 of 9/21/2012. It was measured at 2m above from the surface of the pool before the accident.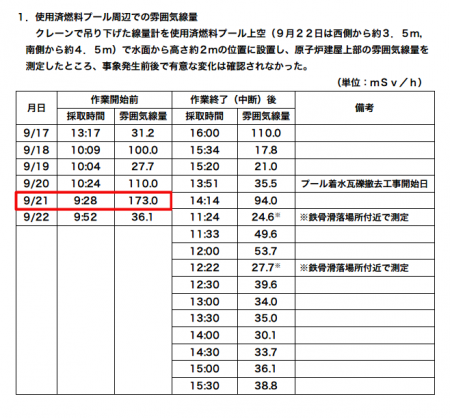 These are the videos of SFP3 taken by Tepco on 9/22/2012.
Iori Mochizuki
_____
Français :
Vidéos de la SFP du réacteur 3
Le 22 septembre 2012, Tepco a fait tomber une armature métallique de 7 m dans la SFP3 (piscine de stockage du réacteur 3). (cf. Une barre d'acier de 7 m et de 470 kg est tombée dans la SFP du réacteur 3, "Il y a 566 assemblages de combustible dans cette piscine")
Selon le communiqué de presse de Tepco, dont ils n'ont pas fait de version anglaise, c'était au cours d'une opération manquée sur la fourche de la pression d'huile.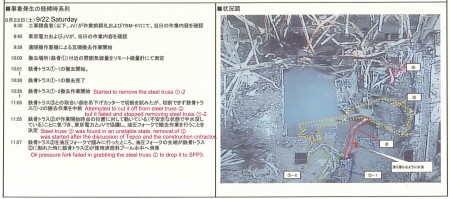 Tepco affirme qu'il n'y a pas eu de changement significatif du niveau de radioactivité dans l'air comme dans l'eau de la piscine et que les températures ont été suivies aussi mais les données montrent qu'ils ont relevé des niveaux extrêmement élevés de radioactivité (173,0 mSv/h) à 9:28 le 21 septembre 2012. Mesure prise à 2 m au-dessus de la surface de la piscine avant l'accident.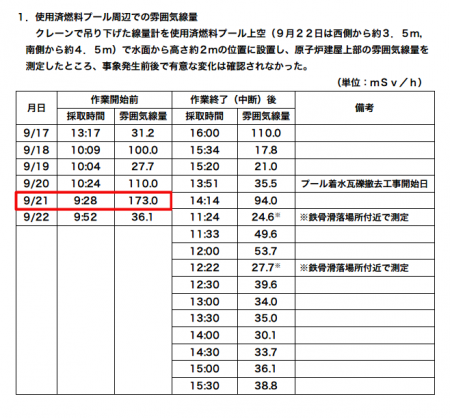 Voici les vidéos de la SFP3 prises par Tepco le 22 septembre 2012 :