Tepco punched an access hole to PCV of reactor1
On 9/26/2012, Fukushima diary reported the rapidly increasing temperature in PCV1. (cf. PCV temperature is rapidly increasing in reactor1, "10℃ in 2 days")
On 9/27/2012, Tepco reported they punched an access hole to PCV of reactor1.
It is not clear if it affected the increasing temperature, but it's not starting to decrease yet.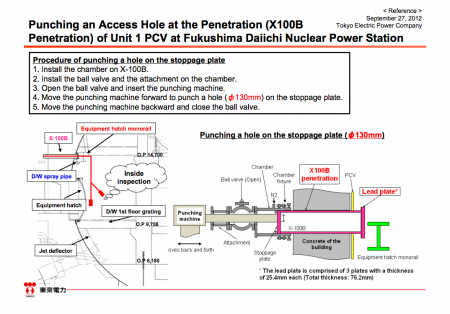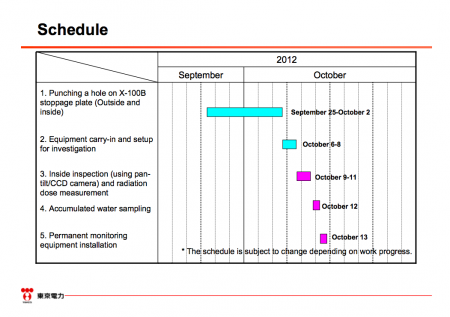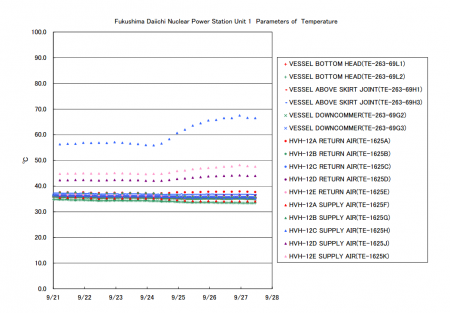 Iori Mochizuki
_____
Français :
Tepco fait un trou dans l'enceinte du réacteur 1 (PVC1) pour y accéder
Le 26 septembre 2012, Le Fukushima Diary a rapporté l'augmentation rapide de la température dans la PCV1. (cf. La température de l'enceinte primaire du réacteur 1 augmente rapidement, 10℃ en 2 jours)
le 27 septembre 2012, Tepco a rapporté qu'ils perçaient un trou d'accès dans la PCV1 (= Enceinte de confinement primaire du réacteur 1).
On ne sait pas si ça influe sur l'augmentation de température mais elle n'a toujours pas commencé à décroître.