[Sea contamination] Cesium in Pacific cod is increasing offshore Hokkaido
Octopus from Fukushima was sold for the first time since 311, however, other countries like South Korea is making the import regulation more strict than ever for the concern about spreading sea contamination. (cf. South Korea banned import of additional 35 types of marine products)
Actually, sea contamination is spreading to offshore Hokkaido.
Agricultural department of Hokkaido government published the latest report about cesium contamination of Pacific cod.
The research was started last August, but the average cesium amount of July.2012 was the highest except for the data of August.2011. Cesium contamination is in the increasing trend after the drop in this spring.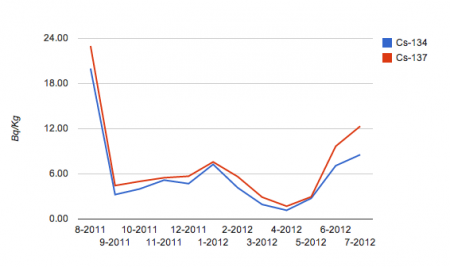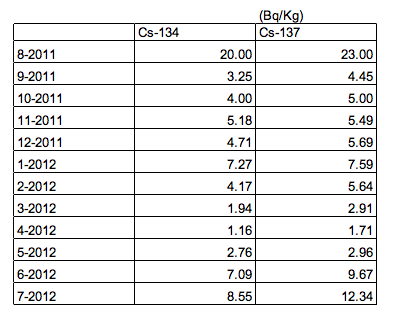 Through the research, the highest reading was 70 Bq/Kg (Cs-134 31 Bq/Kg, Cs-137 39 Bq/Kg) from the sample taken 1/8/2012, but the second highest reading was 68 Bq/Kg (Cs-134 26 Bq/Kg, Cs-137 42 Bq/Kg) from the sample taken 7/25/2012.
Both of the samples were taken from Pacific ocean side. This suggests the contamination spread in Pacific ocean.
↓ The location of the sample of 70 Bq/Kg
↓ The location of the sample of 68 Bq/Kg
1
2
Iori Mochizuki