M5.7 occurred Iwate offshore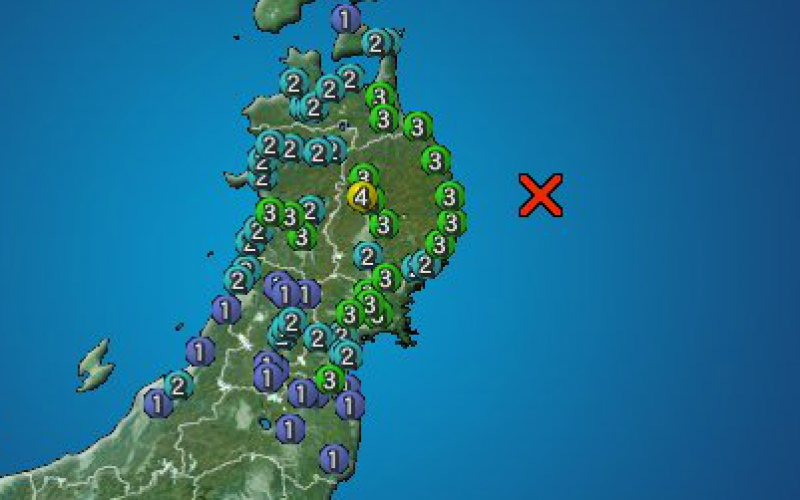 According to JMA (Japan Meteorological Agency), M5.7 happened offshore Iwate prefecture at 14:32 of 2/2/2016 (JST).
The depth of epicenter was 20km. Maximum seismic intensity was 4.
The maximum seismic intensity is reportedly 2 in Fukushima prefecture. However Tepco hasn't announced the plant parameter.
Approx. 9 hours later, M5.8 also occurred in North West of Ishigakijima island too.
http://www.jma.go.jp/en/quake/20160202143732395-021432.html
http://www.jma.go.jp/en/quake/quake_local_index.html
Iori Mochizuki
_____
Séisme M5,7 au large d'Iwate
Selon la  JMA (Japan Meteorological Agency), un M5,7 s'est produit au large de la préfecture de Iwate le 2 février 2016 à 14:32 (JST).
La profondeur de l'épicentre est à 20 km. L'intensité sismique maximale a été de 4.
Elle est rapportée avoir été de 2 dans la préfecture de Fukushima. Cependant Tepco n'a pas communiqué les paramètres de la centrale.
Un M5,8 a frappé aussi environ 9 heures plus tard, au nord-ouest de l'île d'Ishigakijima.
http://www.jma.go.jp/en/quake/20160202143732395-021432.html
http://www.jma.go.jp/en/quake/quake_local_index.html