5 quakes occurred in Tokyo bay within only 1 hour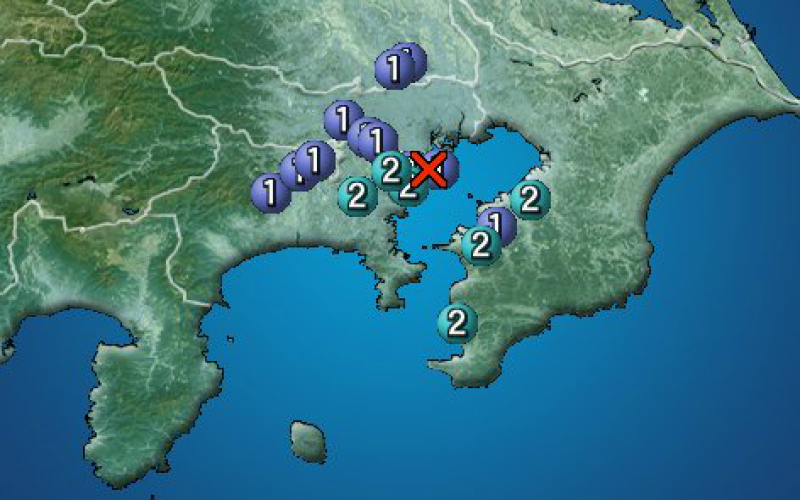 According to JMA (Japan Meteorological Agency), 5 earthquakes happened in Tokyo bay on 12/26/2015.
All of them occurred from 22:12 to 23:21 (JST). The maximum magnitude was 3.4
The depth of epicenter was 20km in common.
On the other hand, the volcanic island in South offshore of Tokyo was observed stopping being active by the Maritime Safety Agency on 12/25/2015.  However the nearby seawater abnormally turned to be dark brown, which was the worst since they started observing. (cf, Colored seawater spreading from the new volcanic island more extensively [URL])

http://www.jma.go.jp/en/quake/quake_local_index.html
http://www.kaiho.mlit.go.jp/info/kouhou/h27/k20151225/k151225-1.pdf
Iori Mochizuki
_____
5 séismes dans la baie de Tokyo en une heure
Selon la JMA (Japan Meteorological Agency), 5 séismes se sont produits dans la baie de Tokyo le 26 décembre 2015. ls se sont tous produits entre 22:12 et 23:21 (JST). La plus grande magnitude a été de 3,4.
Les épicentres étaient en gros à 20 km de profondeur.
De son côté, la Maritime Safety Agency (Agence de Sécurité Maritime) a observé que la nouvelle île volcanique située au large au Sud de Tokyo a cessé d'être active le 25 décembre 2015, ceci alors que l'eau de la mer alentour est anormalement devenue brun foncé, de la pire façon qui soit depuis qu'ils ont commencé à l'observer. (cf. La nappe d'eau de mer colorée s'étend plus largement autour de la nouvelle île volcanique)

http://www.jma.go.jp/en/quake/quake_local_index.html
http://www.kaiho.mlit.go.jp/info/kouhou/h27/k20151225/k151225-1.pdf