M7.0 hit South West of Kyushu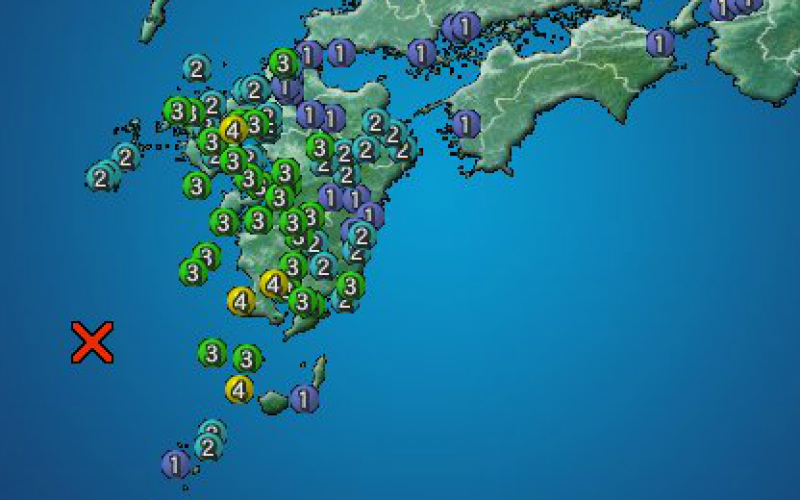 According to JMA (Japan Meteorological Agency), M7.0 occurred offshore of Kagoshima  prefecture at 5:51AM on 11/14/2015 (JST).
The maximum seismic intensity was 4. The depth of epicenter was only 10km.
JMA announced the Tsunami warning 5 minutes after the quake, and it was cancelled at 7:20AM.
The highest Tsunami observed was 30cm.
6 aftershocks were already observed within 12 hours. Magnitude was from 4.3 to 5.1.
http://www.jma.go.jp/en/quake/20151114061107495-140551.html
Iori Mochizuki
_____
Séisme M7,0 au Sud-Ouest de Kyushu
Selon la JMA (Japan Meteorological Agency), Un séisme de magnitude 7.0 s'est produit au large de la préfecture de Kagoshima le 14 novembre 2015 à 05:51 (JST).
L'intensité maximale a été de 4. La profondeur de l'épicentre n'est que de 10 km.
La JMA a émis une alerte au tsunami 5 minutes après le séisme et elle a été levée à 07:20. La vague la plus haute en a été de 30 cm.
6 répliques ont été relevées dans les 12 heures suivantes. Leurs magnitudes s'étalent de 4,3 à 5,1.
http://www.jma.go.jp/en/quake/20151114061107495-140551.html