"Orange light" caught on a Live camera of Mt. Hakone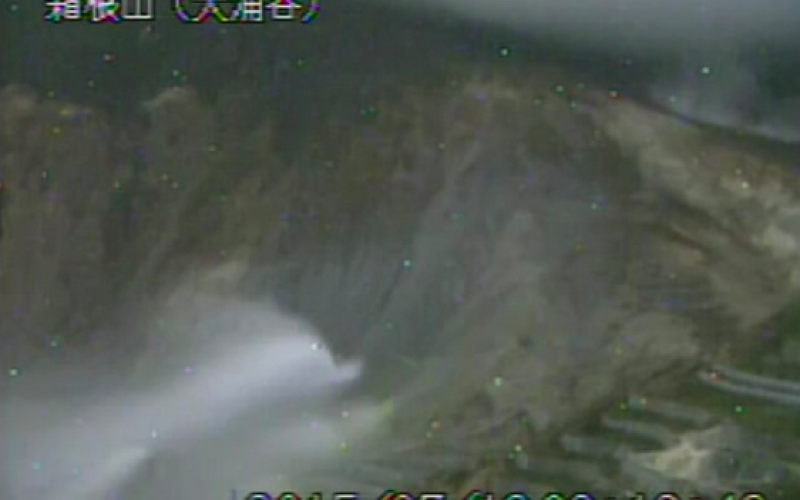 Photo : The current state of Mt. Hakone from the report of Japan Meteorological Agency.
Following up this article.. Japan Meteorological Agency found 3 more craters in Mt. Hakone [URL]
On 7/12/2015, the Live camera for Mt. Hakone operated by NHK (Japan Broadcasting Corporation) caught unidentified "orange light".
It is said that it was recorded on 20:52 (JST). The camera is viewing the mountain from the North East of crater.
The "light" seems to be in the direction of the crater.
There is no announcement on this phenomenon.
20:52 箱根山 これ、何? http://t.co/sC6c7OkW8w pic.twitter.com/2QciDyeX6E

— 木星(じゅぴ) (@jupiterjenny) July 12, 2015
http://www3.nhk.or.jp/news/realtime-1/
Iori Mochizuki
_____
Français :
Une "lueur orange" au sommet du Mt Hakone prise par une caméra de direct
Photo : L'état actuel du Mt. Hakone selon le compte-rendu de la Japan Meteorological Agency.
Article lié : La Japan Meteorological Agency a trouvé 3 autres cratères sur le Mt. Hakone
Le 12 juillet 2015, la caméra de direct du Mt. Hakone installée par la NHK (Japan Broadcasting Corporation) a enregistré une "lueur orange" non-identifiée.
Ils disent qu'elle a été prise à 20:52 (JST). Cette caméra braquée sur la montagne est au Nord-Est du cratère.
La "lueur" semble être en direction du cratère.
Il n'y a pas de communiqué sur ce phénomène.
20:52 箱根山 これ、何? http://t.co/sC6c7OkW8w pic.twitter.com/2QciDyeX6E

— 木星(じゅぴ) (@jupiterjenny) July 12, 2015