1.2 Sv/h measured on unidentified substance overflowing of Reactor 2 / Two parts concealed on Tepco's source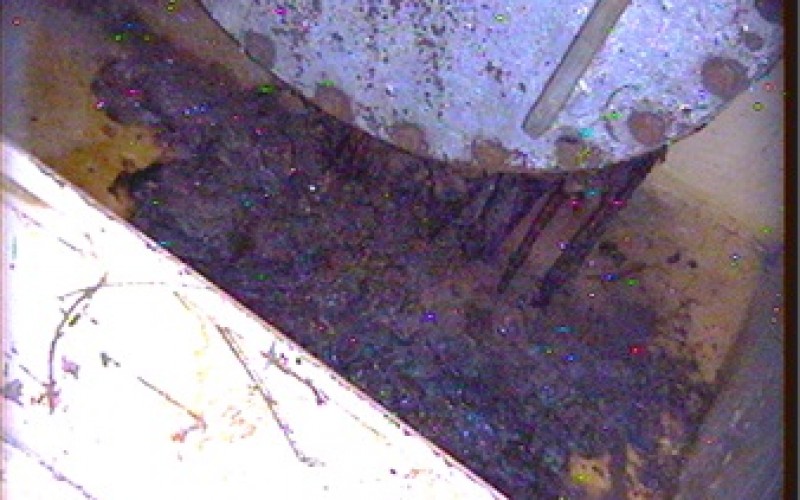 Photo : The picture captured by "PackBot". Black substance is overflowing from the lid connected to Reactor 2 vessel. The composition is not announced. The radiation level was overscale. 
On 6/29/2015, Tepco announced they detected 1197 mSv/h near unidentified substance overflowing from PCV 2 (Primary Containment Vessel of Reactor 2). Because the highest detectable level of the used dosimeter was 1000 mSv/h, the actual radiation level can be higher than 1197 mSv/h.
In order to collect image data of the inside of PCV 2, Tepco was investigating the access hole on the wall.
The substance was found overflown from the lid of the hole by a remote control robot called "PackBot".
The second highest reading was 1150 mSv/h. The composition of the substance has not been announced.
Additionally, on Tepco's source to indicate the location of the issued hole, there are two parts concealed. (Blue circled on the photo attached below)
It is not known what they tried to hide from the press release.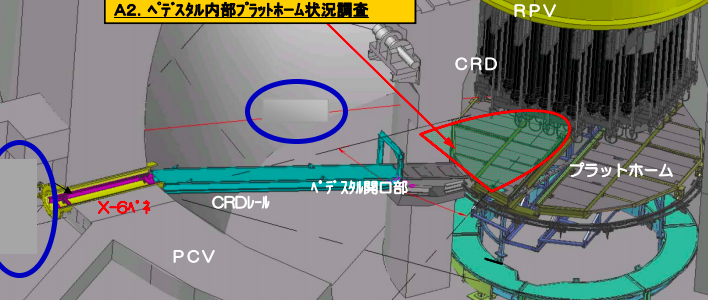 http://photo.tepco.co.jp/date/2015/201506-j/150629-01j.html
http://www.tepco.co.jp/nu/fukushima-np/handouts/2015/images/handouts_150629_05-j.pdf
Iori Mochizuki
_____
Français :
1.2 Sv/h relevé sur une substance inconnue débordant du réacteur 2 / Deux parties censurées dans la source de Tepco
Photo : Photo prise par "PackBot". une substance noire déborde du couvercle de l'enceinte du réacteur 2. La composition n'en et pas donnée. La radioactivité dépasse le maximum mesurable.
Le 29 juin 2015, Tepco annonce qu'ils ont relevé 1197 mSv/h à proximité d'une substance inconnue débordant de la PCV2 (Primary Containment Vessel of Reactor 2 = Enceinte de confinement primaire du réacteur 2). La radioactivité réelle peut être supérieure à 1197 mSv/h car le maximum détectable par le dosimètre utilisé était de 1000 mSv/h.
Tepco explorait le trou d'accès dans le mur pour obtenir des images de l'intérieur de la PCV2,
La substance a été découverte en train de déborder du couvercle posé sur le trou par les caméras d'un robot télécommandé nommé "PackBot".
Le second relevé record a été de 1150 mSv/h. La composition de la substance n'est pas communiquée.
De plus, dans le document source de Tepco localisant le trou en question au moins deux éléments sont censurés (cercles bleus sur la photo ci-dessous).
On ne sait pas ce qu'ils essayent de cacher dans le communiqué de presse.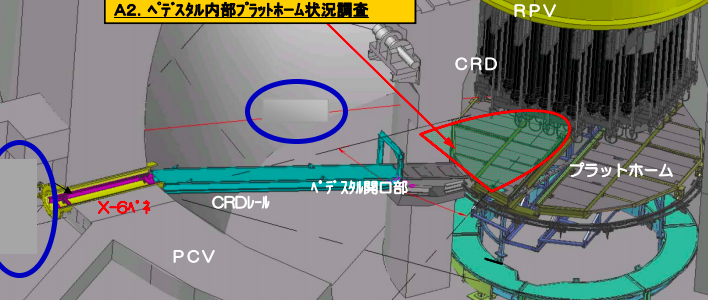 http://photo.tepco.co.jp/date/2015/201506-j/150629-01j.html
http://www.tepco.co.jp/nu/fukushima-np/handouts/2015/images/handouts_150629_05-j.pdf