M6.6 hit Miyagi offshore / Scale 5+ observed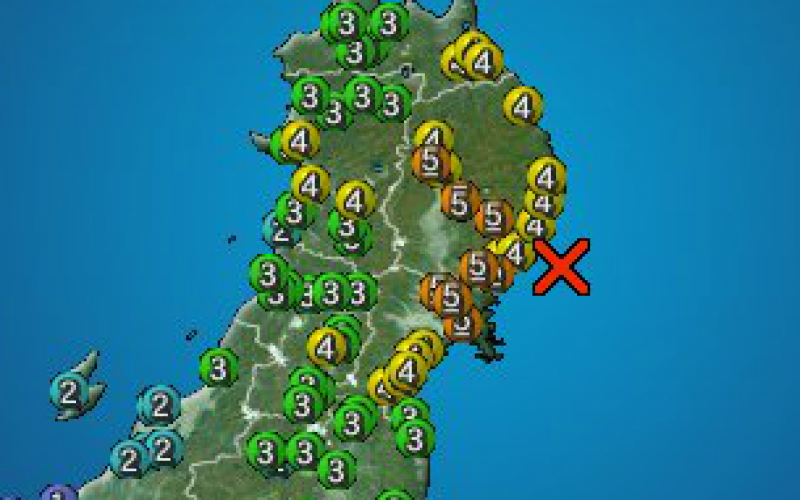 At 6:13 of 5/13/2015 (JST), a major earthquake hit Miyagi offshore. Magnitude was 6.6.
The maximum seismic intensity was 5+. Scale 2 was observed in greater Tokyo area as well.
No aftershocks occurred for some reason but Japan Meteorological Agency has not made any official announcement.
Additionally Tepco announced there is no abnormality reported at Fukushima plant.
http://www.jma.go.jp/en/quake/20150513061945395-130613.html
http://www.jma.go.jp/en/quake/quake_local_index.html
http://www.tepco.co.jp/index-j.html
Iori Mochizuki
_____
Français :
Séisme M6,6 au large de Miyagi : Échelle 5+
Un séisme majeur a frappé au large de Miyagi le 13 mai 2015 à 6:13 (JST). Sa magnitude a été de 6,6.
Son intensité sismique maximale a été de 5+. Une échelle de 2 a aussi été observée dans la région du grand Tokyo.
Il n'y a pas eu de réplique et la Japan Meteorological Agency n'a pas fait de communiqué officiel.
En outre, Tepco déclare qu'il n'y a pas d'anomalie constatée dans la centrale de Fukushima.
http://www.jma.go.jp/en/quake/20150513061945395-130613.html
http://weathernews.jp/quake/
http://www.jma.go.jp/en/quake/quake_local_index.html
http://www.tepco.co.jp/index-j.html