Data shows Reactor 3 & 4 seaside already under groundwater since 3/10/2015 / No announcement from Tepco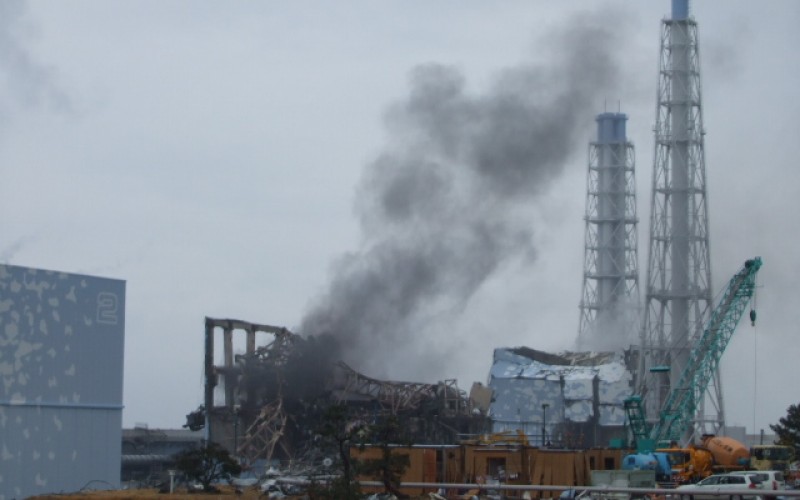 Tepco's own data shows the seaside of Reactor 3 and 4 is already under groundwater, which came up from underground.
It is the trend data of groundwater level published on 3/13/2015.
The report tells the groundwater levels have been rising since the rain of mid February. Approx. one day after the rain on 3/10/2015, those groundwater levels went over 4m above sea level. Because the seaside of Reactor 3 and 4 is 4m above the sea, the data means groundwater has already came above the ground in this area.
Those water levels are measured at 2 boring wells. By the moment of 3/13/2015, the water level is still higher than the ground level at one of the boring wells.
There has been no Tepco's announcement or media coverage on this area. The current status is not published.
http://www.tepco.co.jp/nu/fukushima-np/handouts/2015/images/handouts_150313_08-j.pdf
Iori Mochizuki
_____
Français :
Les données montrent que le côté mer des réacteurs 3 & 4 est déjà noyé sous les eaux souterraines depuis le 10 mars 2015 / Pas de communiqué de Tepco
Les propres données de Tepco montrent que le côté mer des réacteurs 3 et 4 est déjà englouti sous les eaux vennant du sous-sol.
C'est la tendance du niveau des eaux souterraines telle que publiée le 13 mars 2015.
Ce rapport dit que le niveau des eaux souterraines est monté depuis les pluies de la mi-février. Un jour après les pluies environ, le 10 mars 2015, ce niveau des eaux souterraines a dépassé les 4 m au dessus de celui de la mer. Ces données signifient que les eaux souterraines ont déjà submergé le sol dans cette zone puisque le côté mer des réacteurs 3 et 4 est à 4 m d'altitude.
Ces niveaux ont été mesurés en deux puits de forage. Au 13 mars 2015, le niveau des eaux est toujours au-dessus de celui du sol sur l'un des forages.
Il n'y a pas eu de communiqué de Tepco, ni de couverture médiatique de cette zone. La situation présente n'est pas publiée.
http://www.tepco.co.jp/nu/fukushima-np/handouts/2015/images/handouts_150313_08-j.pdf