Tepco's ordinary profit jumped up by 71.4% first half 2014 from the same period a year ago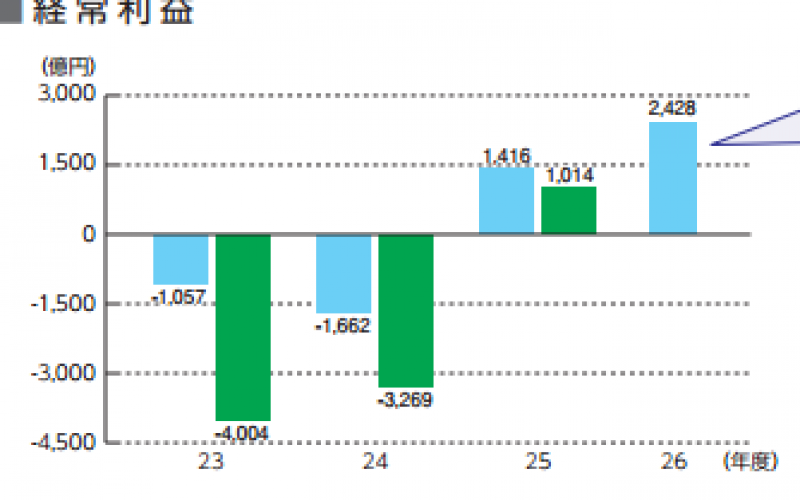 The ordinary profit of this first half year was 243 billion yen, Tepco reported on 12/8/2014. This is 71.4 % larger than the same period of 2013. (Consolidated)
According to this interim statement, the turnover was 3.334 trillion (3,334 billion), which is 3.7 % larger than the same period of 2013.
Tepco states this is due to the increased electric fee.
Along with the increased electric fee, the deferment of repair work is reported to have increased the ordinary profit.
The ordinary profit of the first half year was -166 billion yen in 2012. In 2013, it grew to be 142 billion yen.
Since the first half year of 2012, Tepco's ordinary profit has been rising up.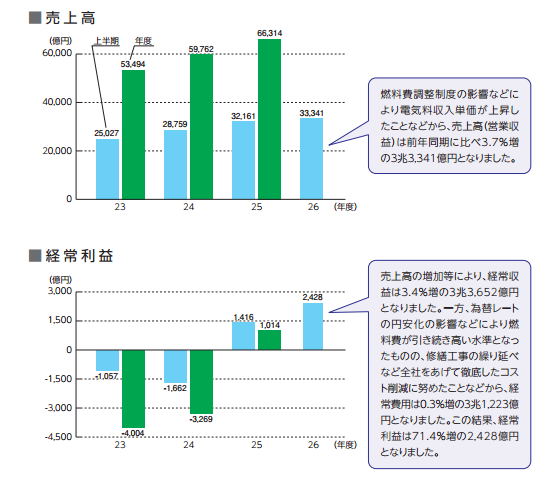 http://www.tepco.co.jp/ir/tool/jigyou/pdf/141208-j.pdf
Iori Mochizuki
_____
Français :
Les bénéfices de Tepco ont augmenté de 71,4% au 1er semestre 2014 par rapport à la même période de l'an dernier
Tepco rapporte le 8 décembre 2014 que ses bénéfices sur la première moitié de cette année ont été de 243 milliards de yens. C"est 71,4 % de plus que la même période de 2013. (Consolidé)
Selon cet état intermédiaire, le chiffre d'affaire a été de 3,334 trilliards (3 334 milliards), ce qui est supérieur de 3.7 % par rapport à la même période de 2013.
Tepco affirme que c'est à cause de l'augmentation de ses tarifs d'électricité.
En plus de cette augmentation des tarifs, le report de travaux de réparation aurait contribué à gonfler les bénéfices.
Les bénéfices du premier semestre s'élevaient à -166 milliards de yens en 2012. En 2013, il est monté à +142 milliards de yens.
Les bénéfices de Tepco augmentent depuis le premier semestre 2012.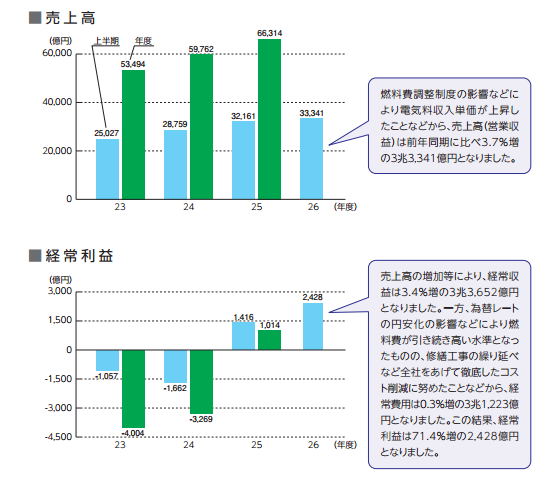 http://www.tepco.co.jp/ir/tool/jigyou/pdf/141208-j.pdf