430,000 Bq/Kg and 280,000 Bq/Kg measured from dust near public libraries, pref gov blockaded irrelevant place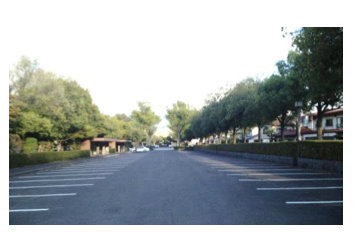 According to CRMS (Citizens'Radioactivity Measurement Station), the highly radioactive "dust" was found near the public libraries in Fukushima.
The dust samples were taken from 5/1 to 5/2/2013. Locations are Fukushima prefectural library and Fukushima city library.
There is a possibility that the dust contains cyanobacteria called "black substance". It is known to extremely concentrate radioactive material.
From the dust taken in the parking lot of Fukushima prefectural library, 289,144 Bq/Kg of Cs-134/137 was measured.
Also from the dust taken in the planting of Fukushima city library, 433,772 Bq/Kg of Cs-134/137 was measured.
Both of the libraries are still opened for public.
On 5/7/2013, CRMS reported it to Fukushima prefectural government and Fukushima city government.
The city government blockaded the area and attempted decontamination. However the prefectural government blockaded an irrelevant planting area though nobody walks in the planting, and had the library staff attempt decontamination.
The highly radioactive material has been warned about since 2012. Probably the hot particles are already inhaled.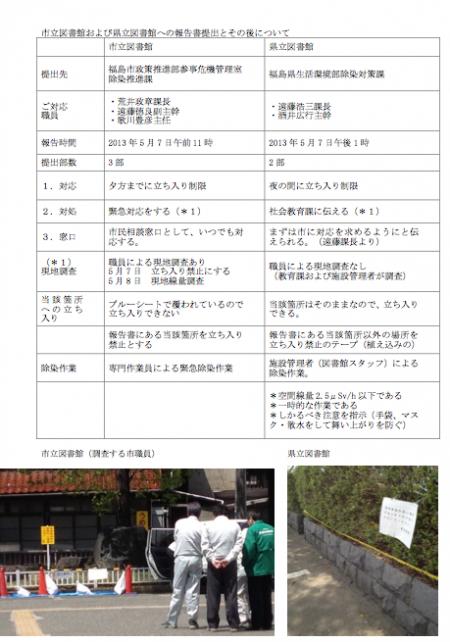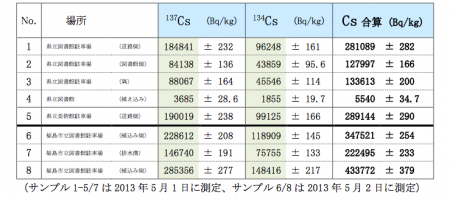 http://www.crms-jpn.org/art/229.html
Iori Mochizuki
Thank you for considering donation !
Your donation will be spent for:
The legal procedure to register Fukushima Diary headquarters. (320USD)
So far, 0.00 USD collected.
_____
Français :
430 000 Bq/kg et 280 000 Bq/kg dans la poussière à côté des bibliothèques publiques, la pref se trompe d'endroit à isoler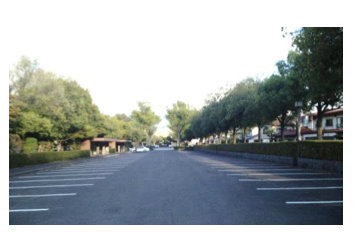 Selon le CRMS (Citizens'Radioactivity Measurement Station), cette "poussière" extrêmement radioactive a été découverte près de bibliothèques publiques de Fukushima.
Les échantillons de poussière ont été ramassés entre le 1er et le 2 mai 2013 à proximité de la bibliothèque préfectorale de Fukushima et de la bibliothèque municipale de la ville de Fukushima.
Il est possible que cette poussière contienne la cyanobactérie nommée "substance noire". Elle est connue pour concentrer énormément les matières radioactives.
Ils ont relevé 289 144 Bq/kg de Cs 134/137 dans les poussières du parking de la bibliothèque préfectorale et  433 772 Bq/kg de Cs 134/137 dans celle des plantations de la bibliothèque municipale.
Les deux bibliothèques  sont toujours ouvertes au public.
Le CRMS l'a rapporté le 7 mai 2013 aux autorités préfectorales de Fukushima et à la municipalité de la ville.
La ville a bloqué la zone et tenté une décontamination. De son côté, la préfecture a bloqué une zone de plantations sans aucun rapport alors que personne ne marche dans les plantations et ils ont tenté de faire faire la décontamination par le personnel de la bibliothèque.
L'alerte sur ces matières extrêmement radioactives est régulièrement donnée depuis 2012. des particules chaudes ont certainement déjà été inhalées.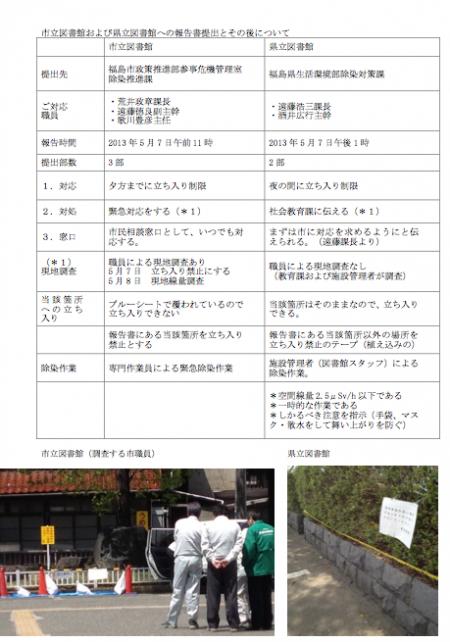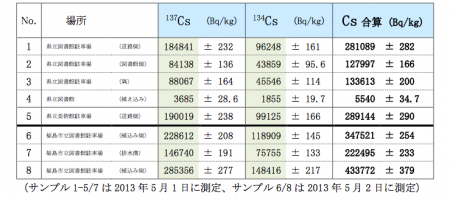 http://www.crms-jpn.org/art/229.html
Merci de penser à un don
Vos dons vont être utilisés pour :
La procédure légale d'enregistrement du siège de Fukushima Diary. (320 USD)
Pour l'instant, 0.00 USD collectés.