Drain pipes got clogged due to dry ice project for frozen water wall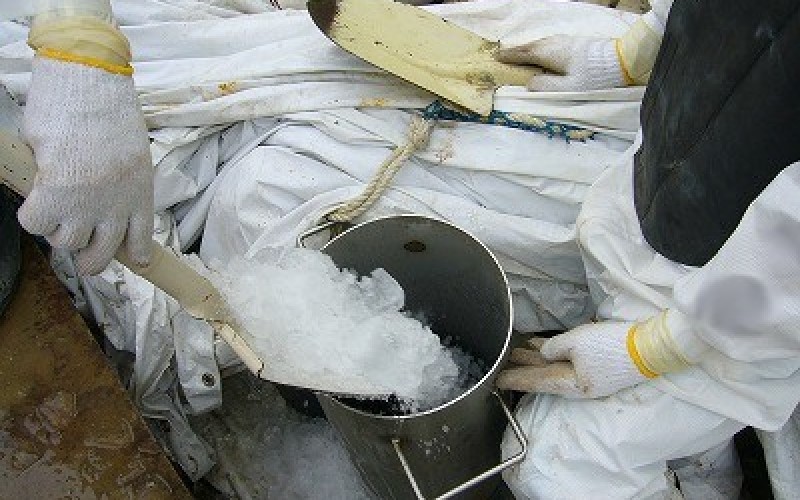 Dry ice ended up clogging the drain pipes, according to Tepco.
In order to freeze the unfreezable frozen wall, Tepco has been putting ice and dry ice into the underground trench. (cf, Tepco to increase ice volume to freeze frozen wall from 15t to 27t per day. [URL])
On 8/11/2014, Tepco announced the dry ice (1 t) clogged the drain pipes accidentally on 8/7/2014 and they stopped putting additional dry ice.
They have also put 222 t of ice but the "frozen" wall is not frozen yet.
http://www.tepco.co.jp/tepconews/library/archive-j.html
Iori Mochizuki
You read this now because we've been surviving until today.
_____
Français :
Tuyaux d'évacuation bouchés par la glace sèche pour le mur congelé
Selon Tepco, la glace sèche a fini par boucher les canalisations.
Pour congeler l'incongelable mur congelé, Tepco a déversé de la glace et de la glace sèche dans la tranchée souterraine. (cf. Tepco va augmenter de 15 à 27 t par jour le volume de glace déversé pour congeler le mur congelé)
Le 11 août 2014, Tepco déclare que la glace sèche (1 tonne) a accidentellement bouché les tuyaux le 7 août et qu'ils ont arrêté de mettre de la glace depuis. Ils y ont aussi mis 222 tonnes de glace mais le mur "congelé" n'est toujours pas congelé.
http://www.tepco.co.jp/tepconews/library/archive-j.html
Vous pouvez lire ceci parce que nous avons survécu jusqu'à aujourd'hui.
Tags:
311
,
contaminated water
,
dry ice
,
frozen wall
,
fukushima
,
groundwater
,
ice
,
japan
,
nuclear
,
radiation
,
tepco
,
trench