Expansion accelerated in Mt. Hakone / Ground uplifted 8cm in recent 9 days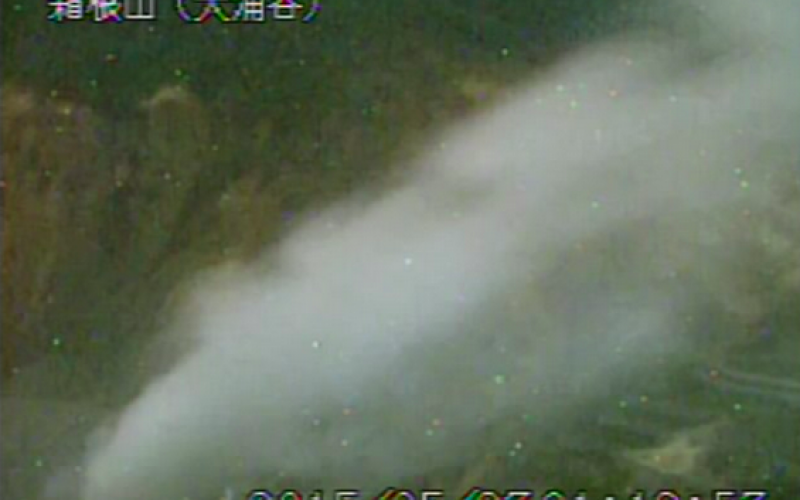 Following up this article.. Mt. Hakone keeps expanding / Land rose up by 4 cm again in the north of crater from 5 days ago [URL]
On 5/26/2015, Geospatial Information Authority of Japan announced they observed Mt. Hakone expanding increasingly rapidly.
From their latest data collected by observation satellite, the ground of Mt. Hakone uplifted by 8cm from 5/16 to 5/24/2015 in the north of crater.
Since this March, it uplifted by 20cm in total.
The error range of the satellite is a few cm. The observed data proves the mountain is significantly expanding.
Japan Meteorological Agency has not raised their warning level of Mt. Hakone.
http://www.gsi.go.jp/kikakuchousei/bousaichousei/h27-hakoneyama-index.html
http://www.data.jma.go.jp/svd/vois/data/tokyo/STOCK/volinfo/VK20150525160111_315.html
Iori Mochizuki
_____
Français :
Expansion accélérée du Mt. Hakone : Le sol est monté de 8 cm ces 9 derniers jours

Article lié : Le Mt. Hakone continue de gonfler : Le sol est encore monté de 4 cm en 5 jours au nord du cratère
Le 26 mai 2015, la Geospatial Information Authority of Japan déclare qu'ils ont observé que le Mt. Hakone gonflait de plus en plus vite.
D'après leurs plus récentes données de satellites d'observation, le sol du Mt. Hakone s'est soulevé de 8 cm entre le 16 et le 24 mai 2015 au nord du cratère.
Au total depuis mars dernier, il est monté de 20 cm.
La marge d'erreur satellitaire est de quelques cm. Les données observées prouvent que la montagne gonfle sérieusement.
La Japan Meteorological Agency n'a pas relevé son niveau d'alerte pour le Mt. Hakone.
http://www.gsi.go.jp/kikakuchousei/bousaichousei/h27-hakoneyama-index.html
http://www.data.jma.go.jp/svd/vois/data/tokyo/STOCK/volinfo/VK20150525160111_315.html